Many NI schools are 'operating compressed days'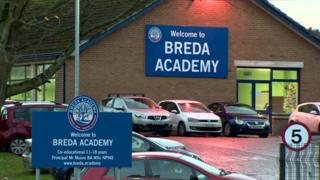 The principal of a school that will shut early once a week due to budget problems and union action said many NI schools already take similar measures.
Matthew Munro, head of Breda Academy secondary school in south Belfast, is sending pupils home at 13:00 GMT every Wednesday from next week onwards.
He said the move was necessary due to financial pressures and ongoing industrial action by teachers.
He added that many other schools have already "compressed" the school day.
'Local measures'
Mr Munro told BBC's Good Morning Ulster programme that with 23-and-a-half hours teaching time a week, his staff were "worked out to the max".
However, he added: "I am little bit surprised, to be honest, at the attention some of this has attracted because what we have done with our reduced, or our compressed, day is simply what a lot of other schools have already been doing.
"They have instituted a variety of measures of compressed days... we are not acting completely out on a limb here."
BBC News NI asked the Department of Education if the practice of compressing the school day was widespread across Northern Ireland.
Its spokeswoman said industrial action by teaching unions was "causing difficulties for a large number of schools".
"The department is aware that some principals and governors have been taking local measures to ensure schools can continue to operate as normal."
'Not clear'
In a letter to parents, Mr Munro outlined the new schedule, explaining that lessons would begin at the earlier time of 08:35 on Wednesdays and buses would be ordered to take pupils home at 13:00.
Wednesday afternoon will then be used for staff meetings and to give teachers time to prepare lessons and assess pupils' work.
However, the Department of Education said: "It is not clear from the letter to parents how the half-day closure on Wednesdays would help the school address any concerns about its financial position.
"The department is therefore working with the Education Authority and the school to better to understand the reasons for these proposed new arrangements."
How do parents feel about early closures?
Outside Breda Academy, parents and grandparents dropped pupils off for the start of a new school day.
Some told BBC reporter Sara Neill that it was not the first time the school had introduced a "compressed" timetable, but other parents were clearly not happy.
One man leaving his grandson off to lessons said: "These compressed hours are compressing his education. His parents are angry, but he's delighted about it."
"I'm disgusted," said another pupil's mother. "As a taxpayer, the least we deserve is an education for our kids. We're not even getting that."
The change was trialled earlier this year, and another mother said: "They've done it before, but long-term, I don't know how this is going to work."
Other parents had little objection to their children missing the 20-minute registration at the beginning of the school day, and did not see what the fuss was about.
"They're kicking off for no reason," explained a woman who has three children at Breda Academy.
"Before this school amalgamated, they finished at 2pm on a Monday and a Friday, so I'm not overly concerned."
Breda Academy's principal told Good Morning Ulster that although his budget was not yet in deficit, the school would be in the red by March 2018.
"Our deficit, from what I've heard about, is going to be quite small compared to others," Mr Munro added.
'Impossible'
He was questioned on whether reducing hours was really necessary, when other schools facing greater financial problems had not cut pupils' hours.
"The action is necessary because in trying to make our budgets work - and governors have tried very hard - there is actually a point where it becomes impossible," Mr Munro replied.
"What you've got here is teachers worked out to the max, in terms of the permissible hours that they're allowed to work. We are stretching that envelope at about 23-and-a-half hours, and what that does is, it puts teachers under pressure."
He told the programme that the school had already cut its staffing levels and, as a result, some classes were now larger that he would like.
'Deeply concerned'
The principal said Wednesdays at Breda Academy would not be a half-day, but a "three-quarter-day" and would still meet teaching requirements.
"We are still going to be over the minimum amount of teaching time that children are supposed to have, but not just as much as, in an ideal world, we'd like to be able to offer them."
He added: "All our staff are deeply concerned about the children and I think one of the tragedies is that, in all of the disputes that we've got, people seem to have lost sight that ultimately, it will affect children."
The Ulster Teachers' Union was troubled by the early closure and said teachers fear it "may be only the start of further swingeing cuts".
"Cuts in the classroom have meant that the system has never before since the Education Act of 1947 faced the kinds of pressures it is facing today - and back then we had just come out of a World War," said its general secretary, Avril Hall Callaghan.
"Something must be done before we go beyond the point of no return and it's too late - a point which is getting perilously close."
'It's not the 1950s'
Not all schools which finish lessons early do so as a result of financial or staffing difficulties.
Three years ago, Hazelwood Integrated College in Newtownabbey introduced a new timetable in which "formal lessons" end at 13:00 every Wednesday.
Principal Kathleen O'Hare said the change was not about cutting costs, but gave pupils and staff greater flexibility for extra-curricular activities, like sports and work experience.
She said schools "cannot continue to operate like it's the 1950s" and added that exam results had significantly improved since the change was implemented.
Hazelwood's library and computer rooms remain open and available to pupils who choose to stay in school on Wednesday afternoons.
Legal requirements
Ms O'Hare said her teachers often use this time to supervise sports or provide one-to-one lessons for struggling students.
The college also opens early - from 08:00 each day - so pupils can have breakfast in school, which is supervised by teachers on a voluntary basis.
"I don't think people realise how much of their free time that teachers actually give up," Ms O'Hare said.
The Department of Education said legislation was in place "which governs the opening hours for all schools and the amount of time when teachers should be teaching and present in school".
"The department will be writing to all principals and Boards of Governors reminding them of their responsibilities and, as in the case when schools have to close in an emergency, the need to seek departmental approval for any deviation from these arrangements."