PSNI officer Linda Totten guilty of shoplifting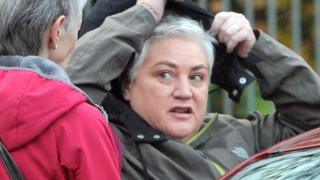 A PSNI officer has been found guilty of shoplifting, following a retrial at Dungannon Crown Court.
Linda Totten (50), with an address given as PSNI Enniskillen, had denied two counts of shoplifting dating back almost four years.
The sergeant now faces being stripped of her rank after a 15-year career.
The court was shown CCTV of Totten with trolley loads of shopping on the 20 and 24 December 2013.
On both occasions, the CCTV showed a small box containing other goods on top of the trolley.
In the second shoplifting incident, goods to the value of £156.81 were stolen, while the amount from the first incident remained unknown.
When challenged, Totten told staff at Asda in Enniskillen that she had paid for the bulk of the shopping and only needed to pay for those items in the box.
The prosecution said that Totten was a "bluffer" who carried out "two brazen and bold thefts... with the expectation that she would be believed" when she claimed that she already paid for most of her shopping.
However, the defence argued that shortcomings and failures in the prosecution case regarding the CCTV evidence were "so severe that you cannot possibly convict".
It was the second time in as many months Totten stood trial, with the first ending in a hung jury.
At that point, Totten was released on bail while the case was adjourned to allow for legal directions on whether or not to proceed.
On return, the prosecution confirmed a retrial would be sought. The judge advised he wanted this dealt with "sooner rather than later and preferably before Christmas".
However, while a date for retrial was set, the press were not permitted to report this as defence counsel told the court he had been instructed by his client to have the proceedings "stayed".
He said Totten believed she could not get a fair trial due to "widespread unbalanced media coverage of the first trial".
This brought a reporting restriction on proceedings at that stage.
Press immediately filed a challenge to the allegation of unbalanced coverage.
However, on the day the matter was to be heard, Totten did not proceed with this.
Unanimous
Instead, her defence argued against some points of CCTV evidence used in the trial, but this was rejected.
After a total of seven days at hearing, the jury unanimously found Totten guilty in less than an hour. She made no reaction to the verdict.
The judge adjourned the case for preparation of a pre-sentence report.
He released Totten on continuing bail but warned this was no indication of what the sentence would be.
In relation to Totten's PSNI career, Dep Ch Const Drew Harris said: "We will deal with this in line with conduct regulations and the officer's duty status will be reviewed as part of this process."