DUP bluffing over Tory deal warning, says Gerry Kelly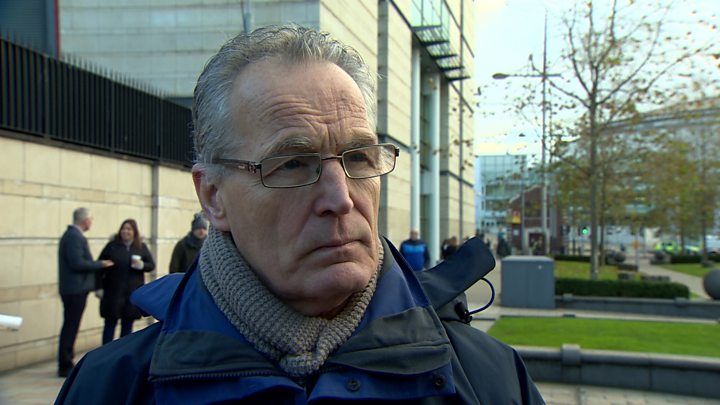 Sinn Féin has said the DUP was bluffing when it warned that its deal to support the Conservative government could be jeopardised by Brexit negotiations.
On Thursday, the DUP's Sammy Wilson said any attempt to "placate Dublin and the EU" could mean a withdrawal of DUP support at Westminster.
He was responding to reports of a possible strategy to deal with the Irish border after Brexit.
Sinn Féin's Gerry Kelly said he did not believe the threat was serious.
"In my opinion he's bluffing," Mr Kelly said.
"There is a great fear of the Labour Party getting in from the DUP and I think if the bluff was called, you would soon find out what exactly was behind it."
He added: "I think they are serious in their beliefs, they have said them, they have articulated them - you have to give them that.
"But in terms of their threat to the British government, I don't think they're serious."
A story, published in the Times newspaper on Thursday, reported that British and EU officials could be about to seek separate customs measures for Northern Ireland after the UK leaves the European Union.
This could avoid any divergence in trade rules between Northern Ireland and the Republic.
Mr Wilson said that the government would "have to recognise that if this is about treating Northern Ireland differently, or leaving us half in the EU, dragging along behind regulations which change in Dublin, it's not on".
He said the proposal mooted in The Times report was unworkable, and revealed the DUP would be seeking clarification from the government on its accuracy.
The DUP struck a deal with the Conservative government in June, agreeing to support Tory policies at Westminster, in return for an extra £1bn in government spending for Northern Ireland.
Earlier on Thursday, DUP leader Arlene Foster said that the government had a "clear understanding that the DUP will not countenance any arrangement that could lead to a new border being created in the Irish Sea".
The DUP has consistently opposed calls for Northern Ireland to be granted "special status" within the EU, in a bid to resolve border issues.
The party has accused Irish nationalists of using the special status campaign as "an opportunity separate Northern Ireland from the rest of the United Kingdom, with a border in the Irish Sea".