Two Belfast men charged with test firing gun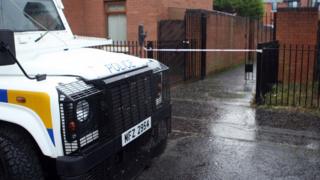 Two Belfast men have been remanded in custody accused of test firing a gun in preparation for acts of terrorism.
Matthew Charles Johnston, 37, and Eamonn Hutchinson, 36, were arrested following searches in the north of the city earlier this week.
Police seized a gun and quantity of ammunition during an operation centred on the New Lodge area.
Both men also face a second charge of possessing a firearm and ammunition with intent to endanger life.
Appearing together at Belfast Magistrates' Court, Mr Johnston of Carrick Hill, and Mr Hutchinson, from Princes Dock Street, both refused to stand in the dock as the allegations were put to them.
They remaining seated throughout the hearing, prompting a judge to ask: "Have they a difficulty with standing?"
A detective sergeant told the court he could connect them to the charges.
The accused's solicitors confirmed they were not seeking bail at this stage.
The judge remanded the pair in custody to appear again by video-link on 22 December.
As they were being led back to the cells one supporter shouted out: "Go ahead lads."
Cheers and a round of applause also broke out among those accompanying him in the courtroom.