'Insufficient evidence' for Ballycastle murder trial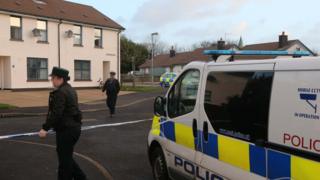 A judge has ruled a County Antrim man should not stand trial for the murder of a labourer almost two years ago.
John Keenan (51), of Broombeg View in Ballycastle, had been charged with the murder of Anthony McErlain.
Police said the 48-year-old, who was found in a flat in Broombeg view on 28 January 2016, had suffered a "traumatic and frightening death''.
Mr Keenan's defence had a made an application at Belfast Crown Court arguing that he had no case to answer.
His lawyers argued that he was asleep during the time Mr McErlain was assaulted and played no part in the attack on him.
However, the prosecution said that circumstantial evidence in the case, along with "lies'' Keenan told to police at interview, were sufficient grounds to put him on trial in front of a properly directed jury.
'Insufficient evidence'
During a ruling on the application on Friday, the judge said that after carefully considering submissions from both the defence and prosecution, he had decided that there was "insufficient evidence to put the defendant on trial''.
As a result, the judge said Keenan should now be released from custody at Maghaberry prison where he has been on remand following his arrest in England in May 2016.
Defence counsel for co-accused Christopher Keenan (35), also of Broombeg View, told the court that a consultant psychiatrist was still waiting on the defendant's "full medical notes and records'' which are held by the Northern Ireland Prison Service.
He said this was delaying the psychiatrist in finalising a report on Christopher Keenan's mental health.
The judge said that that was very disappointing and directed they be released immediately or he would want an explanation as to why they can not be released.
Psychiatric report
Prosecution counsel asked the court to fix a date for Christopher Keenan's arraignment hearing on the charge of murdering Mr McErlain while the psychiatrist's report was being finalised, adding that the deceased's family had been attending all the court hearings.
However, he said he would prefer that the arraignment was postponed until the New Year to allow him to have a "full overview of the case'' before advising his client.
The arraignment hearing was fixed for 12 January.