Ulster University 'must pay over £1m to former staff'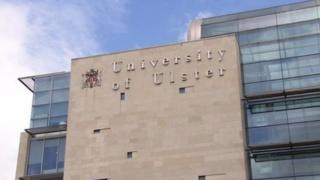 Ulster University (UU) has been told to pay out an estimated total of at least £1m to 143 former members of its staff.
An industrial tribunal has ruled that each ex-employee should receive the equivalent of 90 days' salary.
It found UU was guilty of a "serious failure to consult" with their union over redundancies in April 2016.
It said this was "deliberate", that management "actively misled" the union and wanted to keep it "in the dark". The UU admitted mistakes were made.
'Vindicated'
A UU spokeswoman said the university would consider the tribunal's findings and "ensure all appropriate lessons are learned".
The University and College Union (UCU), which represents academic staff across the UK, took the case and said it had been clearly vindicated by the tribunal's ruling.
The tribunal found that a "fait accompli" had been presented to the UCU and that the trade union had been "actively misled" by the HR manager at that time, Ronnie Magee.
"The trade union was in an invidious position for months where its own members were asking what was happening because they were being told locally that their schools or courses were closing," the tribunal said.
'Bitterness'
"There were press reports to that effect and the trade union was unable to give any assurance that members' concerns or views were being put forward in the formulation of redundancy plans as they had received no information despite their repeated requests."
It said there was a "poor relationship" between management and the trade union at the university and the redundancy process had led to "palpable bitterness on the part of both the staff who went and those who stayed".
The UCU welcomed news of the pay out and called for it to be made urgently.
"Our members did not volunteer for severance, they were told to take an enhanced package or be dismissed with a reduced payment," said Katharine Clarke, UCU.
"We are glad the tribunal agreed with us that this was putting a gun to our members' heads."
Ms Clarke said university management made unilateral decisions to close specific courses.
"The 'voluntary severance package' was only offered to targeted staff, and not to other staff who would have been prepared to leave," she said.
"By the time UCU were informed of management's 'proposals', courses had already been removed from marketing materials and from the University and Colleges Admissions Service (UCAS), so redundancies in those areas were a fait accompli."
Ms Clarke said serious work now had to be done to repair industrial relations.
In a statement, the UU said: "A number of improvements have already been made and we are now working in a different way.
"We are committed to embedding these new ways of working through meaningful consultation with unions and staff."
It's spokeswoman added that it "would not be appropriate to discuss compensation amounts".