Four NI health trusts among worst performers for ED waiting times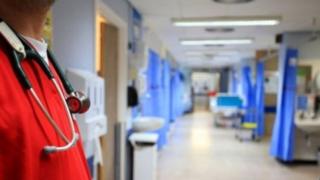 Four of Northern Ireland's five health trusts are among the 10 worst emergency department performers in the UK.
In a UK-wide exercise, the BBC has examined statistics dating back five years.
The Belfast Trust, the Northern, the Western and the Southern health trusts are all named alongside six English NHS trusts in the BBC analysis.
The government's own target is that 95% of patients should be seen within four hours.
In 2012, Northern Ireland emergency departments had seen 77.2% of patients within that time but latest figures show this has fallen to 75%.
That drop is partly due to more people attending emergency departments - a 12.8% rise since 2012.
However, according to Northern Ireland health officials, the figures from England and Northern Ireland are collated in a different way.
For example, the overall four-hour performance in England includes people attending Walk In Centres (Type Four departments) which Northern Ireland does not have.
According to the Department of Health, given that almost everyone attending Walk In centres are seen, treated and discharged within four hours, their overall level of performance will also increase.
The Northern Ireland Health and Social Care Board (HSC) said staff were trying to address the problems, but said the situation was likely to get worse this winter and said health care reform was needed.
Emergency departments across the UK are feeling the pressure - more then three million patients waited for more than four hours in the past 12 months, an increase of 120% in the past five years.
Key statistics
In Northern Ireland, attendance grew by almost 90,000 patients in the past year to more than 780,000, a 13% rise on 2012/13 - the highest increase in the UK.
Attendances were up by 8% in England, 5% in Wales and 1% in Scotland during the same five-year period.
Scotland is the closest to hitting the four-hour target after seeing the number of people waiting the longest fall by 9%
In Northern Ireland, the number of patients seen within four hours rose by more than 50,000 to over 590,000
However, those waiting longer than the target time in NI also rose by 36,000 to 191,000 - a rise of 23%
In a statement, the HSC said: "The challenges in managing and sustaining an improved performance are not unique to Northern Ireland and are recognised nationally by other regions.
'Extra £7m'
"There is a significant amount of work by ongoing by HSC staff right across the entire health and social care system to enhance access to urgent and emergency care services.
"However, as we face into the winter months, pressures on the system are likely to increase in terms of a higher demand for beds.
"All trusts have developed plans to improve resilience over the winter period and the Department of Health has recently made available an additional £7m to support the implementation of these plans.
"However, the long-term answer to the pressures we are facing in emergency departments, and throughout primary, secondary and community care, will only come through continuing to reform our services."
Targets started to be introduced across the NHS in the early years of the 21st Century.
There has been an odd bit of tinkering since, for example both England and Scotland started off expecting 98% of patients to be seen in four hours but have subsequently reduced this target to 95%.