NI paper review: Family's horrific deaths dominate headlines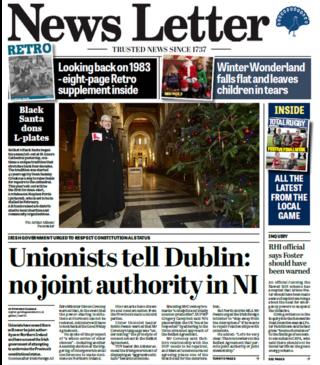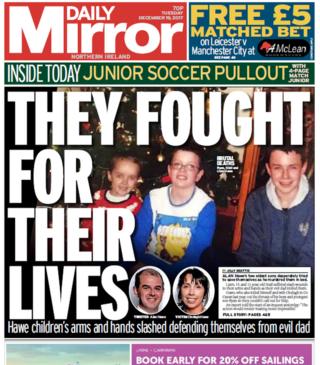 The horrific deaths of a County Cavan family last year dominate the front pages of Tuesday's papers.
An inquest is taking place into the deaths of Clodagh Hawe, 39, and her sons Liam, 13, Niall, 11, and Ryan, six, in August 2016.
They were killed by husband and father Alan Hawe, who then took his own life.
A state pathologist told the inquest that he had likely killed his wife and eldest son Liam first, The Irish News reports.
The paper says there was "audible shock" in the courtroom as pathologist Dr Michael Curtis gave harrowing details of the family's deaths.
He said Clodagh, Liam and Niall all had injuries to their hands which showed they had fought back against their father.
"They fought for their lives" is the Daily Mirror headline.
It says the inquest was told the boys all suffered stab wounds to their throats, which the pathologist said were inflicted so they could not call out.
A heartbreaking picture of Clodagh and her sons on holiday is on the front page of the Belfast Telegraph.
Inside, the paper quotes Clodagh Hawe's mother Mary Coll from the inquest.
'I knew something was wrong'
She said she called to the house after becoming concerned that she could not contact the family.
When she saw that two cars were in the driveway and the curtains of the house were closed, she said: "I knew something was wrong.
"I thought at first it could be carbon monoxide.
The lead story on the front of the Telegraph is a report from an industrial tribunal involving a Euromillions jackpot winner and her former assistant.
Patrick Joseph Breslin, 33, from Strabane, claims he was unfairly dismissed by 52-year-old lottery winner Margaret Loughrey and that he was the victim of sexual discrimination.
A barrister for Ms Loughrey, who won £27m in the lottery four years ago, said she had given Mr Breslin - who had been long-term unemployed - a "hand-up" by offering him a job.
The News Letter returns to the issue of tension between unionists and Irish Foreign Affairs Minister Simon Coveney.
"Unionists tell Dublin: No joint authority in NI" is the paper's front-page headline.
Ulster Unionist leader Robin Swann says that Mr Coveney should "step away from the microphone" if he wants to repair relationships with unionists.
He says: "Let's be very clear: There is nowhere in the Belfast Agreement that permits joint authority or joint stewardship."
TUV leader Jim Allister accuses the Irish government of displaying an "aggressive attitude" towards unionists.
Meanwhile, the Belfast Telegraph reports that Ulster and Ireland rugby star Rory Best has been awarded the freedom of the borough by Armaghy City, Banbridge and Craigavon Council.
The council unanimously agreed to bestow the honour on the Ireland captain at a meeting on Monday night.
"This represents our formal expression in recognition of his outstanding sporting achievements and acknowledges Rory as an excellent ambassador for his sport and our borough," said Lord Mayor Gareth Wilson.
Speech training
Finally, former Girls Aloud singer Nadine Coyle has, in the past, had to defend her Londonderry accent against some critics, but now it seems it's being used as a training tool.
The Irish News says that Galway actress Nicola Coughlan has revealed she watched YouTube videos of Ms Coyle to perfect her Derry accent for a part in a new Channel 4 comedy based in the city.
Ms Coughlan, who plays one of four friends in Derry Girls, says she won over the directors during her audition after watching the videos.
"My main source of help was Nadine Coyle," she said, sadly not adding the word "hi" in at the end for extra effect.