Two teenagers remanded after alleged attack on 'vulnerable' man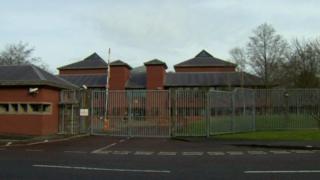 A teenager accused of trying to murder a vulnerable man has been remanded in custody.
The 15-year-old, who cannot be named because of his age, was charged with attempted murder.
He also faced charges of attempted intimidation, criminal damage, having an offensive weapon and assaulting police.
He appeared with Padraig Brolly ,18, of Rosseden Drive, Limavady, at North Antrim Magistrates court on Friday.
Mr Brolly was charged with attempted grievous bodily harm, attempted intimidation, criminal damage, having an offensive weapon and having a class B drug at Coolessan Walk on Thursday.
The court heard that at about 03:15 GMT, the teenagers approached the back of a house where an 18-year-old man with learning difficulties lived.
'Waving a hatchet'
His mother heard noise, opened her window and asked them what they were doing.
The 15-year-old claimed he was in the UDA and said that her son was a drug dealer and needed to leave.
The court heard that Mr Brolly was waving a hatchet.
The vulnerable man then ran outside and his mother claimed that the 15-year-old thrust something at her son's chest.
'Give me a sentence'
In police interviews, Mr Brolly denied having a hatchet and told the the police that the other teenager had a knife and tried to stab the man.
He was denied bail.
When the 15-year-old began to argue in court, the judge warned him that he could be sentenced for contempt.
"Go ahead, give me a sentence, Rathgael is a holiday camp," the teenager told him.
He was remanded in custody for 14 days. Both teenagers are to appear via videolink on 22 January.