Blowin' in the Wind with Storm Dylan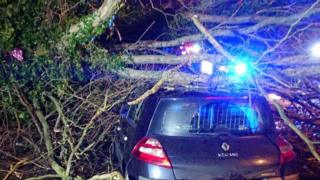 The year 2017 looks set to go out with a bit of a bang as severe weather has been forecast for Saturday night.
The seventh storm of the year - Storm Dylan - has been named by the Irish weather service, Met Éireann.
It is expected to bring strong winds across Ireland and Britain on Saturday evening, lasting into New Year's Eve.
Weather warnings have been issued by both the UK's Met Office and Met Éireann.
Strong winds are affecting Northern Ireland on Friday evening.
Police earlier advised motorists to avoid the Shore Road in Newtownabbey due to a fallen tree on the road near the Rathcoole Drive entrance. The road has since reopened.
Storms at this time of the year are fairly standard.
Storm Doris was the first storm to hit this year, on 22 February.
That system cut electricity to tens of thousands of homes right across Ireland.
Aer Lingus cancelled almost all flights between the UK and the Republic and it also damaged County Antrim's Dark Hedges - the tree-lined avenue which features on the TV series Game of Thrones.
One of the trees fell victim to the strong winds.
Up next was Storm Ewan which once again brought strong winds across the island, but did not have as strong an impact as Doris.
Ewan did cause flooding though, with reports of fields and roads being affected.
It would be seven months before we would see our next named storm of the season - Storm Aileen - on 12 September.
The main impact was felt across the south coast of the Republic of Ireland as that weather system passed over.
But how do this year's storms compare to previous years?
"I don't think we've such a bad year for storms this year as we've had in recent winters," said John Wylie from the Met Office.
"I think the storm of the year has been ex-hurricane Ophelia which began its life in the Atlantic, moved towards the British Isles and gave us a stormy spell in mid-October.
"Unusual in so much that we had an ex-hurricane, formed in other parts of the world, to come across Northern Ireland".
Few of us will forget that ex-hurricane in the middle of October when red warnings were issued.
Ophelia may have been downgraded from a hurricane by the time it reached our shores, but nevertheless it was still a very dangerous system.
In fact, it was the most severe storm to hit the island in half a century and led to the deaths of three people in the Republic of Ireland.
As hurricane-force gusts moved across, one woman and a man died in separate incidents when trees fell on their cars.
A second man died in a chainsaw accident while attempting to remove a tree felled by the storm.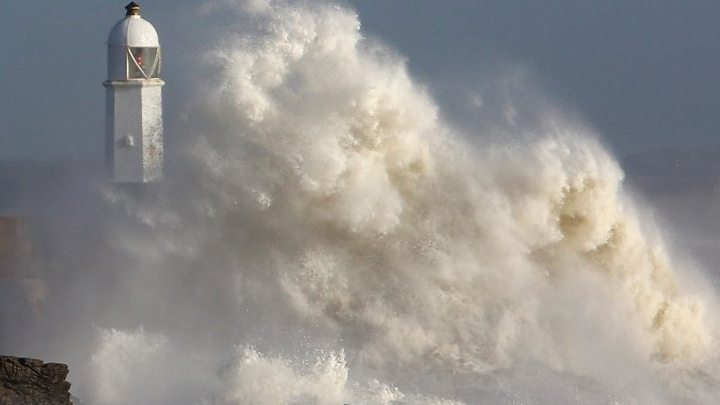 Tens of thousands of properties had their power cut, and water supplies to some homes in the Republic were also affected.
In comparison, Storm Brian in October and Storm Caroline earlier this month were much calmer.
Storm Brian did bring flooding to some towns and cities across the Republic of Ireland, with winds being the main feature across Northern Ireland.
Caroline brought strong winds on 7 December, felt mainly around the Antrim coast with ferry sailings between Ballycastle and Rathlin Island cancelled as the storm passed.
Naming storms for us is still relatively new, but research carried out by the Met Office does show that naming them has raised awareness.
"We've actually named storms in order to help us get the message across about impactful weather, weather that's likely to cause a significant impact on people's lives," Mr Wylie said.
"It is winter time now and those storms can pack a punch. We're certainly keeping a very close eye on Storm Dylan for tomorrow evening and into New Year's Eve."
We won't know what type of disruption - if any - will be caused by Storm Dylan on Saturday night.
That will only become clear once the system has passed.