GCSE marks revoked after coursework leak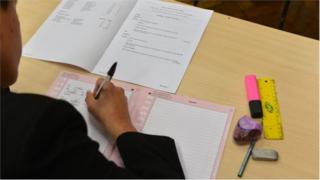 Hundreds of pupils in Northern Ireland will have their GCSE computer science coursework marks revoked after details of the task were leaked online.
The decision has been taken by the exams regulator Ofqual.
The programming exercise, worth one fifth of the overall mark, will not count towards pupils' final grades.
The decision will only affect pupils in Northern Ireland sitting the GCSE through UK exam boards AQA, OCR, Pearson and Eduqas.
Ofqual announced they were considering the move in November 2017 and launched a consultation on their plans.
They have now confirmed that pupils will still complete the coursework but receive no marks for it.
'Any unfairness'
While it is not yet clear how many local pupils are affected, 630 NI pupils sat computing GCSEs with exam boards other than CCEA in 2016.
Writing to students, Ofqual said the decision had been made "with reluctance" but "we do not want anyone to have an unfair advantage".
"Some of this year's tasks had been posted to online forums and collaborative programming sites, contrary to exam board rules," they said.
"It is not possible to identify which students have accessed or used this information.
"We know that not everyone will agree with our decision.
"However if we do not act now, it would be impossible for us to correct any unfairness caused by rules being broken."
The change affects those due to sit the exam in 2018 and 2019.
Pupils sitting ICT or digital technology GCSEs through the Council for Curriculum, Examinations or Assessment (CCEA) are not affected.