Inquiry into post-Brexit fishing rules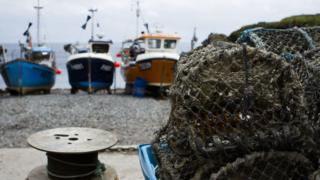 MPs at Westminster have begun an inquiry into how Brexit will affect Northern Ireland's fishing industry.
It is the first in a series looking at the the impact of the decision on the economy and society here.
It is being conducted by the Northern Ireland Affairs Committee.
The fishing industry supports some 900 jobs in NI, mostly in Kilkeel, Portavogie and Ardglass in Co Down. A 327-strong fleet landed 29,000 tonnes of fish worth £41m in 2016.
Prawns make up most of what they catch, followed by scallops, herring, mackerel and crabs.
The inquiry wants to hear from people about the opportunities and challenges that Brexit will bring for the fleet and fish processing businesses.
It will consider what might replace the EU's Common Fisheries Policy, which has governed operations for decades.
Access to waters
Committee Chairman Andrew Murrison MP said Brexit had "big implications" for the fishing industry and the communities that depend on it.
"There are real opportunities for growth but we must fully understand the complexities in order to secure the right arrangements for Northern Ireland principally, but also to do the right thing by the Republic of Ireland as an enduring member of the EU," he said.
MPs want to hear from those who work in the industry on a range of issues.
They include how fish stocks should be managed and the extent to which bilateral deals can be done with the Irish Republic whose waters are an important key fishing ground for the local fleet.
As well as leaving the Common Fisheries Policy, the UK government has announced its intention to leave the London Fisheries Convention, a reciprocal agreement covering fishing within the 6-12 mile limit in the waters of western Europe.
There's an ongoing problem restoring access to coastal waters off the Irish Republic for the Northern Ireland fleet following a court case several years ago.