Stormont deadlock: Parties urge quick resumption of talks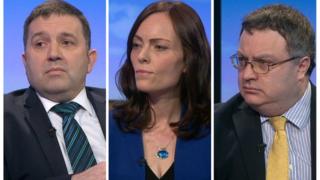 The UUP, SDLP and Alliance Party have urged a quick resumption of talks to re-establish a power-sharing government in Northern Ireland.
Ulster Unionist leader Robin Swann was appearing on BBC's Sunday Politics programme with SDLP deputy leader Nichola Mallon and Alliance Party deputy leader Stephen Farry.
Each said it was important for new NI Secretary Karen Bradley to act quickly in the coming days.
She was appointed minister on Monday.
Mrs Bradley met Northern Ireland's political parties and Irish foreign minister Simon Coveney during the week.
On Friday, she said she would reflect on those conversations over the weekend.
It is expected that Mrs Bradley will map out how a new talks process could work in the coming days.
Ms Mallon said that it was "difficult to know" if Mrs Bradley could bring fresh impetus to the talks.
"When we met with her we were very clear on the need to have inclusive talks, the need to have independence in terms of the chair and let's see what progress was made between the DUP and Sinn Féin so we can all try and build on that."
Mr Farry said that an April deadline to restore government in Northern Ireland, coinciding with the 20th anniversary of the Good Friday Agreement, was too far away.
'Effective deadline'
"I don't think we can afford to even wait that long," he said.
"The real deadline lies in terms of having a budget for Northern Ireland.
"January, early February is the effective deadline in terms of having a budget in place if we are to spend ever scarcer resources efficiently and effectively.
"If not, we're going to be squandering money and we can't afford to do that whenever so many aspects of public services require reform and our economy is stagnating.
"We have to get on and do things to fix Northern Ireland - otherwise there's nothing to come back to."
Northern Ireland has been without a devolved government since 9 January 2017, when Sinn Féin pulled the plug on its power-sharing coalition with the Democratic Unionist Party (DUP).
The two parties have failed to find a resolution in spite of several rounds of talks.
Speaking on Sunday Politics, the three politicians said that Sinn Féin and the DUP had to back up "positive words" with action after a contentious week, which centred on Sinn Féin MP Barry McElduff's controversial 'Kingsmill' tweet.
The MP was suspended for the tweet, which showed him balancing a Kingsmill loaf on his head on the anniversary of the Kingsmill massacre. He apologised and said he did not intend any offence.
On Thursday, Sinn Féin MLA John O'Dowd told BBC's The View programme that the Kingsmills massacre was "shameful" and purely sectarian, words that were welcomed by DUP MLA Edwin Poots, who was also on the programme.
However, Nichola Mallon said that this "one civilised exchange on The View comes on the heels of 12 months of very hard, bitter, polarising, dividing language".
"In the past year, we have heard a lot of positive words, we've heard about a willingness to do a deal, but none of that has ever been backed up by action."
She added that the SDLP wanted to see the positivity "carried forward, built upon and demonstrated by both the actions of the DUP and Sinn Féin".
Robin Swann added he wanted to see this mood "reflected on a wider, deeper scale" between the two parties while Stephen Farry said the conversation "in itself doesn't indicate a change of direction".