O'Neill to bid for Sinn Féin vice-presidency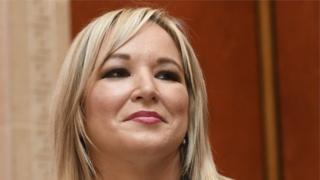 Sinn Féin's northern leader, Michelle O'Neill, has said she will put herself forward for the position of her party's new leas uachtarán (vice-president).
If elected, she would replace Mary Lou McDonald.
On Saturday, Ms McDonald was confirmed as the only candidate to be nominated for the position of Sinn Féin president.
Ms O'Neill announced her intention to run for the vice-presidency in a video posted on twitter.
In a statement, the party's national chairperson, Declan Kearney said nominations for vice-president would be open from Monday 22 - Monday 29 January.
In the video, which was posted on Sunday, Michelle O'Neill said: "Mary Lou McDonald is our new president-elect.
"She is going to be a formidable political leader. I want to join her in her leadership.
"I am going forward for the position of leas uachtarán Sinn Féin. For the position of vice-president of our party.
"And, I am going to ask the membership across this island for their support in order to do so," she added.
In November last year, Gerry Adams announced his intention to stand down as leader of Sinn Féin after 34 years.
Michelle O'Neill, who was appointed as the party's northern leader in January 2017, ruled herself out of the running for the position as she said she would be concentrating on dealing "with the problems in the north".
A special party conference will be held to elect the new party leadership on 10 February.