Referrals to PSNI's online child safety team 'double'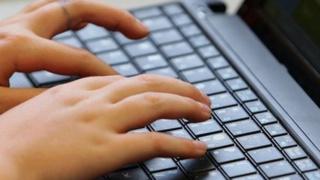 Referrals to the PSNI's Child Internet Protection Team have more than doubled in less than a year.
So far, there have been 280 referrals of 18 year olds and under in the 2017/18 financial year - up from 125 referrals in 2016/17.
A large number relate to the uploading of indecent images.
The figures have come to light as part of a BBC Radio Ulster documentary broadcast on Sunday investigating the impact of social media on young people.
Det Sgt Elaine McCormill, who works with the PSNI's child internet protection team, said that seven police officers have been allocated to the department to deal with the rise and that the conviction rate is "very high" because the evidence is difficult to argue with.
Det Sgt McCormill said there had been an increase in referrals relating to a social media or computer platform contacting the National Crime Agency with information that somebody has uploaded an indecent image.
"Over a number of years, we have noticed referrals rising dramatically by the use or misuse of social media, photos, videos and webcams," she said.
"With kids, it's becoming the norm to send pictures of each other and some of them are committing criminal offences without realising it.
"We quickly realised there was a correlation in the rise of indecent images of children. Many were self-generated and sent by the child.
"We decided they needed to be made aware of the criminal consequences so we set up an education pack and programme to teach them how to use the internet safely.
"That has now been escalated and we now work with a range of organisations including Barnardos, the Education Authority, the Anti-Bullying Forum and Nexus."
Det Sgt McCormill also warned that adults can pose as much younger online in order to groom an unsuspecting child into believing they are friends.
"A predator will lie dormant and they will watch everything that child is saying, and they will watch out for little things," she said.
"Maybe they've fallen out with their mum and then they'll start a conversation and look for that gap, that vulnerability and say, 'yeah I don't get on with my mum either'. Then suddenly they've got something in common."
'Increase in anxiety'
The documentary also explores if social media is having a detrimental impact on some young peoples' mental health.
According to the NSPCC, one in five eight-to-11 year olds now has a social media profile and 25% have experienced something upsetting on these platforms.
Over the last year, its Childline service has seen a 25% increase with 258 children below the age of 18 receiving counselling for anxiety.
The chief executive of Action Mental Health, David Babington, said the ever-connected online world is partly responsible.
"The continuous issue of it being 24/7 is that people are not escaping from social media," he said.
"Official statistics show that, on average, at the age of ten, children have their first phone and they're on that phone and social media for about five hours a day.
"Anecdotally, our primary and secondary school programmes are inundated with requests for assistance," he added.
"I was recently speaking to a headmistress who says she has seen an increase in anxiety, self-esteem issues and self harm."
Twenty-three-year-old health policy officer, Cliona McCarney, understands this only too well after suffering from depression herself.
She said during that time she presented an online identity that was very different to her real life.
"I'd be using a photo of a meal for example that I had had a couple of months ago and I would post it on Twitter as if I was out and about socialising. I was in my pyjamas and sometimes hadn't showered for a week," she said.
She has almost 1,000 Instagram followers and 5,000 followers on Twitter and she said "that comes with a bit of expectation".
"I have these followers so I need to post interesting things otherwise they're not going to follow me anymore."
'Drink bleach'
The pressure of life online also extends to cyber bullying, and according to the NSPCC, one-in-three children has been a victim.
Det Sgt Elaine McCormill said cyber bullying itself was not a criminal offence, therefore the PSNI had no statistics on its prevalence, but she believed it had reached "epidemic" proportions. She said some aspects of bullying could be a crime.
"The elements of bullying can constitute offence, whether it is threatening to assault or to commit a criminal offence, blackmail or grooming," she said.
Bullying can have have devastating consequences.
Mandy Chism, who lives in Omagh, lost her 16-year-old daughter Elle in April last year. The teenager took her own life after being targeted by cyber-bullies since she was 11.
"There was an app that all the young ones had on their phone and it allowed them to write comments about each other," she said.
"Elle got awful messages from there. Of course, the first thing a parent asks is, 'who's doing this?'"
"The answer was, 'I don't know mum'. The worst message was: 'cut your arms so deep you bleed to death. If that doesn't work, drink bleach and if you still don't die, jump off a bridge'. This sent Elle spiralling. She believed she was worthless and didn't have any place on this earth."
The social media giants have responded to recent criticism.
Twitter, Instagram and Snapchat said they took mental health seriously and provided safety information on their websites.
Facebook's Global Safety Policy Manager, Julie de Bailliencourt, said it provides a series of tools but also believes good practice begins at home.
"I think our main focus is in educating parents. We've done a whole safety centre that is available on Facebook.com/safety and a parents portal," she said.
"Our objective is to reassure parents that we take the responsibility of young peoples' safety seriously.
"We have a great resource created with young people in mind called Think Before You Share. It highlights the importance of responsible sharing and we have also invested in a lot of peer to peer education.
"Facebook is committed to spending over one million dollars to make sure every school in the UK has an anti-bullying ambassador that has been trained."
She added that the platform was working with the anti-bullying ambassador programme which was already available in Northern Ireland.
Mandy Chism is now visiting schools as part of the Hopeful Minds project.
"It's about teaching children hope and finding out what it means to them. What are their goals for the future?
"It also teaches resilience because life isn't easy. There are lots of bumps and knock along the way."
Picture Perfect Life will be broadcast as part of BBC Radio Ulster's Stories on Sound series on Sunday 18 March at 12:30 GMT.