Paddy Jackson denies rape under cross-examination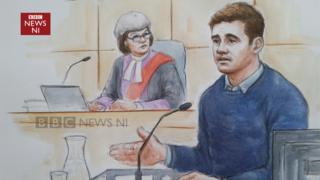 Ulster and Ireland rugby player Paddy Jackson has denied raping a woman and then agreeing a version of the incident with his friends, as he was cross-examined at the trial in Belfast.
He said he had been "pretty drunk" but insisted the woman consented to sexual activity, adding she "was enjoying it".
It was his first appearance on the witness stand on day 27 of the trial.
Mr Jackson and fellow Ulster and Ireland rugby player Stuart Olding deny raping the same woman on 28 June, 2016.
Belfast Crown Court was told that players had both been at Ollie's nightclub in Belfast hours before the alleged attack.
The pair were among eight people - four men and four women - who went to Mr Jackson's house after the club.
The prosecution has alleged that when the woman went upstairs to retrieve her handbag, Mr Jackson followed her and raped her.
'Not aggressive'
However, Mr Jackson insisted that she had followed him upstairs, a short time after she "ran her fingernails down my right arm" in the downstairs living room.
He was asked by his defence barrister, Brendan Kelly QC, whether he had forced her to engage in sexual activity.
"No. I wouldn't do that," said Mr Jackson.
He later added: "She was enjoying it."
He said he touched her sexually and she performed oral sex on him, but insisted he did not engage in sexual intercourse with her.
He said he looked for a condom, after she asked him to do so, but he searched his bedroom and could not find one.
He said Mr Olding later came into the room and she switched her attention to him, performing oral sex on him.
Asked by his defence barrister if he had encouraged or forced her to do this, Mr Jackson replied: "No."
The player, who has 25 caps for Ireland, told the court he was not a violent person.
"I've never been in a fight. I'm not an aggressive person," he said.
'Freaked out'
He insisted all of the sexual activity he engaged in had been consensual and said he had not been aware that the woman had left his home upset about what had happened.
"The last thing I want is a girl crying and leaving my house," Mr Jackson told the court. "I would have completely freaked out.
"I would have gone to help her. If I had known she was upset, I would have tried to contact her."
Under cross-examination, Mr Jackson again denied forcing himself upon the young woman and asking Mr Olding to join in.
Prosecution barrister Toby Hedworth QC put it to Mr Jackson that he "pushed and pushed" the woman beyond what she wanted to do.
"You forced yourself upon her and then beckoned your friend Stuart Olding to join in, when she had made it quite apparent to you, she didn't want sexual activity with anyone," the barrister said.
"No, it was quite the opposite," replied Mr Jackson.
He also denied a suggestion that he and his friends decided on an agreed version of events the following day, after meeting up at Soul Food cafe on the Ormeau Road in Belfast.
By that stage, one of his friends, Rory Harrison, had received a text from the alleged victim saying the sexual activity at Mr Jackson's house had not been consensual.
According to Mr Jackson, this was not mentioned to him by Mr Harrison.
He said: "He didn't tell me. Rory's a very nice guy.
"I can guarantee if he was worried, he didn't want to worry me. He didn't want to cause alarm or distress."
'Pretty drunk'
On the night in question, Mr Jackson said he drank tins of beer, pints of Guinness, gin and tonics and some shots.
He told the court: "I wouldn't say 'hammered' but I was pretty drunk."
He said the next day, he was unconcerned about the previous night.
"I woke up happy with what happened," he said.
Dressed in a navy-blue round-neck jumper and an open-necked shirt, Mr Jackson was asked about a series of WhatsApp messages sent by him and his friends the following day.
'Stupid behaviour'
The defendant admitted the messages had been immature.
He added: "It's just stupid behaviour really."
Asked if he had any concerns about had happened the previous night, he said: "None whatsoever."
However, two days later he said the then Ulster Rugby coach, Les Kiss, phoned him and said: "Paddy, the police are here, you need to go to Musgrave Street police station immediately."
Mr Jackson said he was shocked and added: "My heart sank."
He said he had no idea why the police wanted to speak to him.
'Looked shocked'
He was in a cafe with Mr Olding at the time. Ulster Rugby manager Bryn Cunningham phoned Mr Olding at almost exactly the same time.
Mr Jackson said: "I didn't know what was going on. Stuart looked shocked as well.
"Les called me again. He said: 'Have you left yet?' I said: 'Do you have any idea what this is about? I'm freaking out.'
"He said: 'I don't know. It sounds grave.'"
Mr Jackson added that, at the time, he had thought the sexual activity with the woman had been "good".
He told the court: "Now I don't ever want to be involved in anything like this again."
During his testimony, he answered questions from his defence team on his upbringing, rugby career and friends within the sport.
He described Mr Olding as a "very close friend", and said he was close to fellow Irish internationals Iain Henderson and Rory Best.
He said he had baby-sat Rory Best's children and attended his son's sixth birthday party.
He told the court he had just returned from a rugby tour to South Africa with Ireland on the night of the alleged rape at his home in Belfast.
In total, Mr Jackson spent three-and-a-half hours in the witness box. His evidence has now concluded.
In court - BBC News NI's Mark Simpson:
Paddy Jackson was the 23rd person to give evidence from the witness box: The first person was the woman who has accused him of rape.
Other witnesses have included 10 police officers, two doctors and a taxi-driver.
Before Wednesday's hearing - day 27 of the trial - the jury had not heard Mr Jackson speak about what happened.
Ten days ago, what he said in police interviews after being arrested was outlined in court. A transcript of the police questions and his answers were read out.
Mr Jackson's appearance in the witness box marked the formal start of the defence case.
However, during the five weeks of the prosecution case, the defence was allowed to call a witness - a doctor - when medical evidence was being heard.
Judge Patricia Smyth told the jury last week that all four defendants will have the opportunity to give evidence, if they wish.
They will also be entitled to call witnesses on their behalf.
Last week, the prosecution case concluded but there was a delay before the defence case began as a juror took ill.
A hearing of the trial is expected to take place on Saturday morning to try to make up some of the lost time. Trial hearings in Belfast Crown Court normally only take place on week days.
Mr Jackson, 26, from Belfast's Oakleigh Park, denies one count of rape and one count of sexual assault.
Mr Olding, 24, from Ardenlee Street, Belfast, also denies rape.
Two other men have also been charged in connection with the case.
Blane McIlroy, 26, of Royal Lodge Road, Belfast, denies one count of exposure.
Rory Harrison, 25, of Manse Road, Belfast denies perverting the course of justice and withholding information.
The 11-person jury has been told by Judge Patricia Smyth to wait until they hear all of the evidence before coming to any final conclusions.