St Patrick's Cross delayed after remains found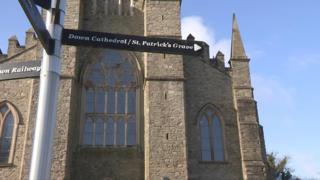 Plans to erect a replica St Patrick's Cross just yards from the patron saint's grave in County Down have been delayed after historic remains were discovered.
The remains were found at the proposed site at Down Cathedral in Downpatrick.
Contractors uncovered the remains during a dig to lay foundations for the new cross.
Three parts of the original St Patrick's Cross are at the cathedral and date from about 800 AD.
The Dean of Down, the Very Reverend Henry Hull, said: "When they went down two feet they began to find some remains, which they've discovered are remains that go back perhaps 500 years.
"They're possibly remains of the monks who were members of the Benedictine monastery that was on this site."
The cathedral is preparing to mark an important anniversary - it's 200 years since the building was restored and reconsecrated.
Churches and abbeys have been on the site of Down Hill, where the current cathedral stands, as far back as the 5th Century.
The present site was built in 1183 by Benedictine monks who had come from Beck in Normandy to Chester before building a settlement in County Down.
It is estimated 60,000 people from around the world visit the cathedral every year, some on pilgrimage, others to find out more about St Patrick.