Rugby rape trial jury resumes deliberations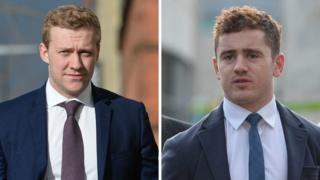 The jury in the rape trial involving two Ulster rugby players has resumed its deliberations.
On Tuesday, the jurors spent more than two hours considering their verdicts.
On Wednesday, they were sent out again by Judge Patricia Smyth at 10:20.
The 11-person jury is made up of eight men and three women.
This is the 42nd day of the trial, which began at the end of January.
The jury started its deliberations at 12:40 on Tuesday.
Paddy Jackson and fellow rugby player Stuart Olding deny raping the same woman in Mr Jackson's house, in the early hours of 28 June 2016.
The judge told the jury that, at this stage: "The only verdict I can accept is a unanimous verdict."
She said that although members of the jury may have heard about a "majority" decision, she told them: "Just put that out of your minds for now."
The judge also reminded jurors not to discuss the trial with family or friends.
---
From Court 12: BBC News NI's Mark Simpson
It is 60 days since the trial began at the end of January.
The 12-person jury that started hearing the case was later reduced to 11 after one juror took ill.
In total, 30 witnesses gave evidence, including 10 police officers, the four defendants, the alleged victim and the taxi driver who drove her home on the night in question.
The court sat on weekdays, but to try to make up for lost time, there was one Saturday sitting.
In total, the court has sat on 42 days, but some hearings have been taken up with legal arguments in the absence of the jury.
On the second week of the trial, the jury was taken to see the layout of Paddy Jackson's house.
All the other proceedings have taken place in Court 12 at Laganside courts complex.
On most days, the 100-seat public gallery has been full.
---
The jurors will also decide on verdicts for Blane McIlroy and Rory Harrison, who face charges over the same alleged incident.
Mr McIlroy, 26, of Royal Lodge Road, Belfast, is charged with one count of exposure. He denies the charge.
Mr Harrison, 25, of Manse Road, Belfast is charged with perverting the course of justice and withholding information from police. He denies the charges.
Paddy Jackson, 26, from Belfast's Oakleigh Park, is charged with one count of rape and one count of sexual assault. He denies the charges.
Stuart Olding, 25, from Ardenlee Street, Belfast, is also charged with rape. He too denies the charge.