Loyalist statement: An important step forward?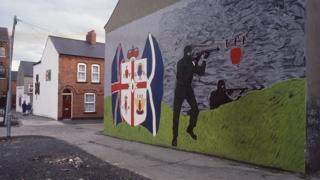 Follow the paper trail back to that period of the mid to late 1990s and it is hard to argue with the opening thought in this latest statement from the Ulster Volunteer Force, Ulster Defence Association and Red Hand Commando.
There would not have been a political agreement on Good Friday 1998 without the involvement of loyalists.
It is not just a reference to those many statements from the Combined Loyalist Military Command covering ceasefire, apology and, later, a commitment to "no first strike", but also the political involvement in talks of loyalists such as David Ervine, Gusty Spence, William 'Plum' Smith, Dawn Purvis, Billy Hutchinson, Gary McMichael and David Adams.
Those 20 years ago, the then Ulster Unionist leader, David Trimble, needed their political involvement and cover to be able to make that agreement.
I was a "non-believer" in 1998. I did not believe that a political agreement was possible at that time.
This was in my reporting period at the BBC and I remember watching those political negotiations from a distance - through the fog of the bullets and bombs of that time.
The killing of loyalist Billy Wright inside the Maze Prison, the violent loyalist surge that followed, the dissident republican bombs in Moira and Portadown after Sinn Féin's Gerry Adams and Martin McGuinness had survived an attempted coup inside the IRA.
The then loyalist party, the Ulster Democratic Party, was suspended from the political negotiations because of Ulster Defence Association (UDA) involvement in the violence and later, Sinn Féin was also suspended when the IRA was linked to a number of killings.
Also think about the complexity of other issues that were part of those talks - policing, arms, demilitarisation and prisoners. It was hard to imagine and visualise a political agreement.
These were my doubts, the source and reason for my scepticism.
Back then, we did not understand process as we do now - that agreement and implementation are different. It takes a long time for these things to evolve.
Did anyone believe back then, that in 2018 - 20 years after Good Friday 1998 - we would still be talking about the issue of paramilitary disbandment?
This latest loyalist statement stops well short of that and for this reason, will be dismissed by some.
Others will want to test the words.
What will "no longer being apologists for conflict but advocates for change" translate into?
What will we see that is different - the tangible proof of stated intentions?
Similarly, what will recognising the importance of a legacy process actually mean in terms of loyalist involvement?
It will not mean an endorsement of the Stormont House Agreement structure of 2014 involving both investigation and information-retrieval strands, but rather an emphasis on the latter.
The loyalist position is that you cannot have both - that continuing investigations are a barrier to the sharing of information and participation in some process of truth-recovery.
Just some weeks ago, speaking at an event on the Shankill Road in Belfast, the PSNI Chief Constable George Hamilton said loyalists involved in criminality should be "called out".
Now, this statement in the name of the Red Hand Commando, Ulster Defence Association and Ulster Volunteer Force - the organisations that once formed the Combined Loyalist Military Command - addresses this issue.
"We fully support the rule of law in all areas of life and emphatically condemn all forms of criminal activity.
"We further declare that any engagement in criminal acts by any individuals within our organisations will be regarded as placing those persons outside the memberships.
"This has been collectively agreed [by the three loyalist organisations] We cannot allow criminals to hinder transformation and the ground on which such people stand is now shrinking."
What will be the proof of these words?
Back in November 1994, the then Church of Ireland Archbishop, Robin Eames, wrote to me after I had met him a few days earlier.
I had learned of his role in encouraging loyalists to declare their ceasefire - including meeting them.
"... as the deaths continued I could not justify a moral stance in which I condemned them and yet ignored an opportunity to talk directly," he wrote.
"I also omitted to say to you that before agreeing to meet them I talked at length to the Archbishop of Canterbury [then George Carey] in England and that throughout the process I kept him informed," he wrote in his letter.
Now, 20 years after the Good Friday Agreement, we learn of further dialogue with loyalists leading to this latest statement, a dialogue in which retired Church of Ireland Archbishop Alan Harper, former Presbyterian Moderator Norman Hamilton and former Methodist President Harold Good have been involved.
Assessments of statement
Rev Good returned to Belfast for Monday's news conference after attending an event in the Basque Country to mark the first anniversary of decommissioning there.
On the loyalist statement, he said: "It has taken us another important step forward. We must trust each other and the intentions that are expressed in this statement.
"We as former church leaders would not be there if we did not have confidence in the sincerity that is behind this statement."
Others will want to make their own judgements and assessments of this statement and this will take time.
Twenty years after Good Friday 1998, will it prove to be that "important step forward"?
Brian Rowan, an author and journalist, is a former security editor with BBC News NI.