Sinn Féin councillor undeterred by arson attack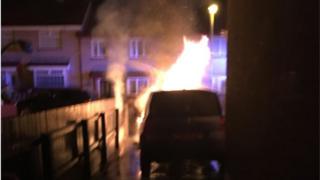 A Londonderry Sinn Féin councillor has vowed to continue working to "improve the quality of people's lives" despite an arson attack on his family home.
Councillor Kevin Campbell said his family had a "lucky escape" after the blaze at his home in the early hours of Sunday.
The alarm was raised by Mr Campbell's teenage daughter shortly before 03:00 BST.
Police said they are working to establish a motive for the attack.
Mr Campbell told BBC Radio Foyle that whoever was behind the attack should come forward and "justify their actions."
"They need to come out and say why they have done this act, what has it achieve. I can tell them now it has achieved absolutely nothing."
Hundreds of people attended a rally in support of Mr Campbell and his family at their family home on Sunday night.
"As I said at the rally in support of myself and my family, nothing will deter me, I will be back at work, doing what I have been doing for the last 25 years and that is continuing to work for the development of that community, to work to help improve the quality of people's lives," he added.
Three people were seen running away from the property in the Creggan area of the city.
Sinn Féin MLA Raymond McCartney said the incident was "not only an attempt to intimidate an elected representative, but an attack on his family".
He added: "It follows a pattern in recent years where the homes and cars of Sinn Féin elected representatives and activists in Derry have been attacked and set on fire by cowards in the dead of night.
"Their desire to intimidate us into silence will fail and I ask the people of Derry to stand with representatives like Kevin Campbell who work every day for a better future for all."
There has been widespread condemnation of the attack on social media.
DUP MLA Gary Middleton described it as a "disgraceful attack", while SDLP leader Column Eastwood tweeted: "An attack on any public representative is an attack on democracy itself."
The vigil will be held on Sunday evening near Kevin Campbell's home on Lislane Drive at 19:00 BST.