Trade concerns about alcohol health warnings on labels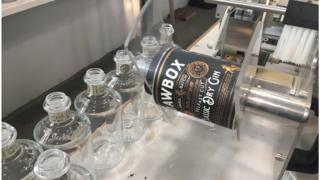 Northern Ireland brewers and distillers have raised concerns that proposed changes to alcohol labelling in the Republic of Ireland will make it more expensive to export across the border.
One of the proposals in the new legislation would see mandatory health warnings on labels.
Warnings, ingredients and calories would take up one third of label space.
The Ireland Public Health (Alcohol) Bill is currently before the Irish parliament for debate.
It is also being considered by the European Commission.
Chief Executive of trade body Hospitality Ulster, Colin Neill, warned the measure would be "a significant impediment to the growth" of small drinks producers.
'Upheaval'
He said the Republic of Ireland is the key export market for the majority of Northern Ireland's alcohol producers and "it is incumbent on all parties to ensure that they do not create new barriers to trade on the island of Ireland".
Northern Ireland has seen a resurgence of microbrewers and craft distillers in recent years with around 40 now in production.
Jarlath Watson, Finance Director of the Echlinville Distillery in County Down, said complying with the new labelling requirements would "deliver a major upheaval to our production systems costing time and money".
He added that it would reduce margins in a key export market and "create an unnecessary barrier to trade at a time of considerable uncertainty".
The Irish government has been trying for at least three years to pass a public health law targeted at alcohol use.
It would introduce a range of measures including a minimum unit price for alcohol and introduce restrictions on the marketing of alcohol.
The proposals have been controversial and have faced opposition from the drinks industry.
Some politicians have suggested the labelling requirements could face a challenge at the European Court of Justice for breaching the rule of the EU single market.
EU member states can use the protection of health and human life as a justification to introduce measures which interfere with the free movement of goods.
However, those sorts of measures must pass a "proportionality" test showing why they are necessary and that the desired outcome could not be achieved by less extensive prohibitions.
'Alcohol harm'
Independent Senator Francis Black supports the legislation saying it is about creating awareness about "alcohol harm" and "our binge-drinking culture".
"This is not about addiction, this is about how our alcohol culture is impacting people in Ireland and it is devastating lives", she said.
She said the alcohol industry opposes the legislation because it will affect their profits but that if the legislation saves a single life it will be worth it.