Derrylin fire: Forensic reports on fatal blaze due in June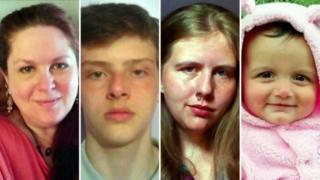 Forensic reports on a fire in County Fermanagh which claimed the lives of four people are due back at the end of June.
Daniel Sebastian Allen, 27, of Molly Road in Derrylin, appeared via video link at Enniskillen Magistrates' Court.
Mr Allen is charged with murder and arson relating to the deaths of three generations of the Gosett family.
The incident happened in Molly Road in Derrylin in February.
Denise Gossett, 45, her 16-year-old son Roman, her daughter Sabrina, 19, and Sabrina's baby daughter, 15 month-old Morgana Quinn all died after the house they were living in was destroyed in a fire.
The court heard that all the forensics had been submitted and reports were expected back at the end of June.
The case has been adjourned until May 21, when Mr Allen is due to reappear via video link.