Easing the transition to 'big school'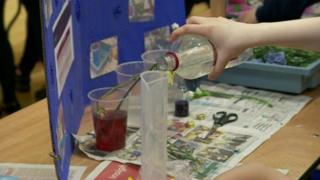 The move from primary to post-primary school is a milestone in every child's life, and it can be a daunting step.
The Boys' Model School in north Belfast runs a special programme for P7 pupils to remove some of that trepidation.
Teachers from the school have been taking science classes in local primaries every fortnight since September 2017.
On Tuesday, around 100 primary pupils displayed what they had learned in a science fair at the Boys' Model.
Some found out why volcanoes erupt, how rockets launch or where best to store bananas.
Others, like Bailie and Kai from Glenwood Primary School, tested how much Vitamin C was in popular brands of orange juice.
Teacher Joanie Harper from Currie Primary School said that P7 pupils faced a lot of changes in moving to "big school".
"They worry a lot about practical things like getting lost or how to get there," she said.
"Our children walk to school but then suddenly they're expected to read a bus timetable and find out the bus they have to get.
"Then they have different teachers for every subject, whereas at primary school they've got the one teacher.
"They've to pack a schoolbag, know what subjects they have, read their timetable."
"It's a lot of emotional worries that they have and also practical worries," she said.
The transition programme run by the Boys' Model aims to tackle some of those worries by making local pupils familiar with the school, some teachers and what they will study before they even get there.
It is also open to pupils who will end up at other post-primary schools, as they will face similar challenges.
Jasmine from Glenwood Primary is one of them.
As a girl she won't be going to the Boys' Model but she is looking forward to studying science in the next school year.
"You get to experience lots of new subjects," she said.
"You've got biology, chemistry and physics and I really like science and can't wait to do them."
The head of science at the Boys' Model, Leanne Hawthorne, said the school also used the scheme to gauge the skills of the pupils set to join the school.
"We take away the fear of coming to a big school," she said.
"But we also give them the knowledge they need to start well-equipped in science at secondary school.
"Then when they come to us they have the confidence, they've kept the enthusiasm and we actually find it makes them more eager to learn in the science classes."
"Some of our pupils are coming from schools where their entire school population is one year group in the Boys' Model."
"Coming from that environment to a big bustling school can be quite daunting."
However, the school's year-long effort is aiming to make that big move a little bit smaller.