Council backs motion for Coleraine bomb memorial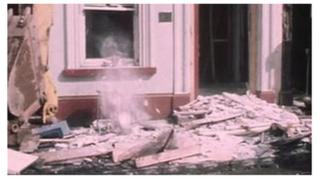 Causeway Coast and Glens Council has agreed to begin consultations on a memorial to victims of a bomb attack in Coleraine that killed six people.
A last minute attempt by Sinn Féin to amend the DUP motion's wording was rejected.
Sinn Féin councillors abstained in the vote.
Earlier, a Sinn Féin councillor jailed for his part in the bomb attack said he would not oppose plans for a memorial to the victims.
Sean McGlinchey spent 18 years in prison for the 1973 bombing.
The six civilians who died in the Provisional IRA bombing on 12 June 1973 were all older than 60 and were all Protestant.
A further 33 people were injured in the attack in which two car bombs exploded in the town.
All of those injured or killed were caught up in the first explosion, which went off on Railway Road at 15:00 BST.
Mr McGlinchey said he had no problem with a memorial in Coleraine but his party would be tabling an amendment that all victims of the Troubles be remembered.
The DUP motion proposed erecting a memorial to the victims and marking the 45th anniversary of the bombing with a memorial event in the County Londonderry town.
It was brought forward by councillors Alan McLean and Trevor Clarke.
Councillor Clarke said the Sinn Féin amendment hoped to remove the word "atrocity" and references to "Provisional IRA".
Sinn Féin councillor Kieran Mulholland said he proposed an amendment "that would have provided for a memorial to the victims of the Coleraine bombing in an inclusive way that recognised the pain and suffering of all victims".