Staff shame at state of emergency medicine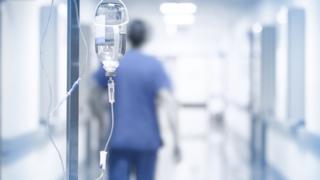 Some consultants have said they feel "ashamed and appalled" by the state of emergency medicine in Northern Ireland.
The Royal College of Emergency Medicine has said the sector is "in a state of crisis" after a recent survey of its members.
Many said they felt "ashamed, appalled and anxious" after a day's work dealing with patients.
More than 70% of Northern Ireland's 88 emergency medicine consultants took part in the survey.
It was designed to gain a better understanding of the pressures facing NHS staff working on the front line.
Themes including patient dignity were explored with almost all agreeing that it can be compromised daily because of crowding in emergency departments.
The key findings of the survey were:
98% agreed that there is an insufficient number of medical and nursing staff to cope with current demand in emergency departments
97% said they have at times felt stressed during their working day because of an inability to deliver high quality care to patients
91% do not believe that it is sustainable working in emergency care in the current environment
The report, which looks specifically at Northern Ireland, says it is equally concerning that the number of patients waiting over 12 hours has risen by 108.8 % in four years.
The report is extensive and explores many areas, including the importance of patient flow through a hospital and the need for greater social care in the community.
When neither happens the report says there is congestion in hospital wards which leads to lengthy patient discharges.
The report comes against a backdrop of limited resources and a rise in population. In fact, between 2012-13 and 2016-17 the number of inpatient and day case admission in Northern Ireland has increased from 605,928 to 615,271 - a rise of 1.5%.
There is the added problem that capacity - the number of beds available - has not increased at the same rate as demand.
'Crushed and overwhelmed'
Staff reported feeling "burn-out, impotent, exasperated, crushed and overwhelmed".
According to the college, occupational burnout and stress is a well recognised hazard to staff both in the UK and abroad. In contrast some doctors described the excitement of the role and the diversity of the case mix.
"I feel challenged, enthused and stimulated on a daily basis. However the crowding has led to me being very frustrated at the inability to provide out patients with the timely and effective care they deserve."
Among the recommendations from the Royal College of Emergency Medicine report are:
Increased numbers of acute hospital beds
More emergency department nurses
Increased social care capacity
More emergency medicine consultants
A minimum of 10 consultants in every emergency department
A spokesperson for the Health and Social Care Board said
"Emergency Departments in Northern Ireland have experienced a very challenging winter similar to the rest of the UK and Ireland. The length of times some people have had to wait is unacceptable and we would apologise to them for this.
"The pressures are in part due to an increase in the number of older, sicker people with more complex needs attending and being admitted to hospital, and the challenges in supporting them to return home when they are medically fit.
"The whole HSC are working very closely together and are investing in a range of innovative services which will help prevent some people from attending in the first place, improve the patient journey, and provide better support for patients when they leave hospital."