Edwin Poots' son investigated by standards watchdog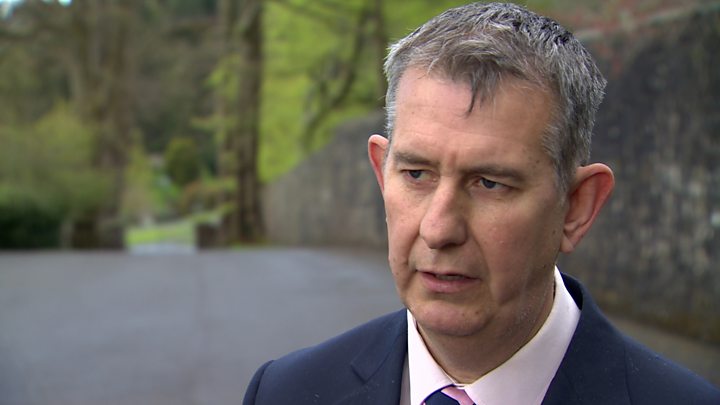 The son of DUP MLA Edwin Poots is under investigation by a standards watchdog over an alleged conflict of interest.
Luke Poots chairs Lisburn and Castlereagh City council's planning committee.
He is being scrutinised for voting in favour of planning decisions lobbied for by his father.
The watchdog that oversees standards in local government is examining if the code of conduct has been broken in relation to decisions by Mr Poots.
It is alleged that Mr Poots has a conflict of interest because he has been in the chair when lobbied by his father, Edwin Poots, to support certain planning applications.
Luke Poots has often voted in line with his father's wishes.
When asked to comment on the investigation, Mr Poots announced he would no longer take part in decisions of the committee when his father makes a representation.
"On being appointed to the planning committee of Lisburn Castlereagh City Council, I asked for advice on my role if my father made representations to the committee," he said.
"The council received legal advice from their independent legal advisors which I have always followed.
"I have done everything by the book. I am 100% in the clear. Every time I have been in the chair when my dad speaks, I have declared an interest."
The former head of standards in public life, Sir Alistair Graham, has claimed there was a conflict of interest on the planning committee when Luke Poots remained in the chair and voted in line with representations made to him by his father.
"I do think it is a conflict of interest because of the family connection and because they are members of the same political party," he said.
"I think the actual conflict of interest is so serious that he (Luke Poots) should not have put himself in the position where he is playing an influential role in the decision itself."
DUP MLA and former environment minister Edwin Poots has a successful record of lobbying Lisburn and Castlereagh City to have recommendations by planners overturned.
Luke Poots has voted in favour of the developers or individuals that his father has been representing.
Last December, Luke Poots used his casting vote as chairman to ensure a controversial housing development on the Dromore Road in Hillsborough was passed, even though planners had recommended that the application be turned down.
At the meeting, Edwin Poots urged the committee to overturn the planners' guidance, which they did.
Hillsborough resident Alan Barr was one of 37 people who initially objected to the Dromore Road scheme.
He said he also believed there was a conflict of interest in relation to the committee's decision.
Mr Barr told the BBC: "The development is inappropriate. It is oversized.
"The planners, the case officers, decided the development was inappropriate so it should not have been passed.
"It is a black and white issue, but yet the local councillors overturn the professional advice of their own planners, particularly when the casting vote was from the chairman of the committee - Mr Poots - son of Edwin Poots, who was there promoting the developer.
"There's a clear conflict of interest."
Sir Alistair Graham said the example of using a casting vote by the chairman to arrive at the same outcome that his father had lobbied for, made any conflict of interest more significant.
"I think it makes the situation particularly serious, because in the end, he (Luke Poots) is in effect the decision maker," Sir Alistair said.
"He is making a decision that his father wants him to make, and that seems to me, given both the political and family links, that makes it a totally untenable situation."
'No conflict of interest'
When declarations of interest were sought at the council planning meetings, Luke Poots raised the fact that his father would be speaking on certain applications, but said he "did not consider this constituted a conflict of interest" as he himself had not expressed a previous opinion on the application.
He would then remain in the chair and if his father made representations on planning applications, he would vote on them.
Edwin Poots told the BBC: "No conflict of interest has been exercised in any shape or form by either myself, my son, other DUP members or anybody else on the council.
"The council makes their decisions based on the information provided to them."
Advice from the Northern Ireland Audit Office states: "A perception of a conflict of interest can be just as significant as an actual conflict of interest.
"The key issue is whether there is a risk that a fair-minded outside observer, acting reasonably, would conclude that there is a real possibility of bias."
Green Party North Down MLA Steven Agnew raised the planning issue with the council watchdog, the Local Government Ethical Standards Directorate at the Ombudsman's office. It will examine if there has been a breach of the councillors' code of conduct.
"We received a complaint in relation to an alleged conflict of interest within the planning committee of Lisburn and Castlereagh City Council," a spokesperson said.
"This matter has now been referred for investigation."
Mr Agnew said: "For me, planning is something that is very important.
"It is important that our planning system is above board and is seen to be above board.
"That is why I have asked the Ombudsman to investigate this, whether or not what has taken place is within the code or not, because I believe if this was happening across Northern Ireland councils, our planning policy and our decision making would be a joke."
Three years ago as part of local government reform, planning powers were devolved to Northern Ireland's eleven councils, giving councils the same power as local government across the UK.
Former Lisburn resident Fiona Derbyshire is now the deputy chair of the planning committee on York City council.
According to her, it would be unusual in England for a councillor to remain in the chair of a planning committee to vote on items after a relative has given an oral submission.
"We often have people that we know, or people we are familiar with who speak against an item, even against officers' recommendations and decisions," she said.
"I have never known of a relative speaking.
"If it were my relative, I would want some clear blue sky between me and my decision making, and my influence on the committee, so I would expect to declare an interest and step down from the chair, probably vacate the room and take no part in the debate.
"That would generally be the standard practice here and that's what your colleagues and peers would expect."
Asked for its position on a committee chairperson remaining in the chair at meetings, and voting on issues that a close relative has lobbied for, Lisburn and Castlereagh City council said it had no comment to make.