Stormont talks push NIO hospitality spend to £94,000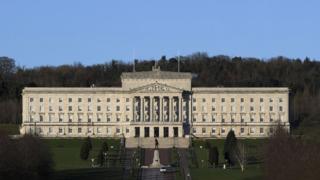 The Northern Ireland Office has spent just over £94,000 on "hospitality" in the last 12 months, figures show.
That represents a 57% increase on the previous year, with the "sustained" period of talks over the year contributing to the rise, the NIO said.
Northern Ireland has been without an executive since January 2017, as several rounds of talks have failed to restore the power sharing government.
The amount spent on hospitality in the 2016/2017 financial year was £59,755.
The figures were provided by Shailesh Vara, parliamentary under-secretary at the NIO, in response to a parliamentary question from Scottish National Party (SNP) MP Deidre Brock.
The figure for 2015/16 was lower again, at £34,841.
The figures for 2014/15 and 2013/14 were £53,769 and £67,492 respectively.
'Unique environment'
In a statement, the NIO told the BBC that the spending increase in the last 12 months was due in part to the talks process, as it supported an "increased and sustained period of talks and engagements aimed at restoring devolved government".
The department also said that it hosted an increased number of "key" VIP visits and events requiring "significant additional resource".
"The increased costs in 2017-18 are, in part, a reflection of the sustained periods of talks that have taken place throughout the year," a spokesperson said.
"This unique environment has also resulted in a significant increase in visits and external engagement related to, for example, EU exit work and legacy issues."
However, it did not say what specifically the money was spent on.
Talks to restore power sharing collapsed in February.
Sinn Féin and the Democratic Unionist Party (DUP) held talks with Northern Ireland Secretary Karen Bradley last week.
They were billed as exploratory meetings, with one Stormont source calling them "talks about talks".