Attacks on Banbridge houses treated as hate crimes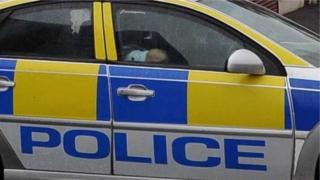 Attacks on houses belonging to families from India and Pakistan in Banbridge are being treated as hate crimes.
Windows were smashed and a car windscreen damaged at a house on Cline Road at about 23:50 BST on Thursday.
About an hour later, white paint was thrown over the front of a house at Underwood Terrace and windows smashed.
A mother and her three young children at home at the Underwood property were not injured, but were left shocked by the attack.
Three men were inside at the Cline Road property at the time of the attack.
Police said they were "working to establish a definitive link between the incidents".
A 33-year-old man was arrested close to Underwood Terrace.
He is being questioned on suspicion of racially motivated criminal damage there, as well as a previous attack on the same house on 9 March during which paint was also thrown.
Chief Inspector Jon Burrows said: "Hate crime of any description is despicable and completely unacceptable.
"We all have a responsibility to ensure that we live in a society where all people are respected, and we are working hard to investigate these crimes and support the victims".