Londonderry rape trial jurors hear recorded evidence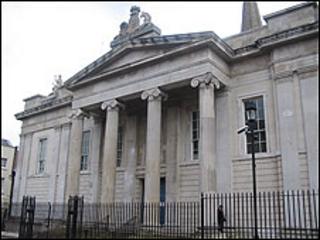 Jurors at Londonderry Crown Court have heard a 34-year old man on rape charges detained his alleged victim against her will and assaulted her.
Patrick McNamara, originally from County Kerry, is also charged with attempted rape, false imprisonment, indecent assault and assault.
The alleged events happened at his house at Ardanlee, in the Culmore area on September 9, 2008.
Mr McNamara denies the charges.
He told police that the sex had been consensual.
His 44-year-old alleged victim, gave her evidence in a 90-minute recording.
She told how she first met the defendant while they both waited for a taxi outside the Metro Bar in Derry.
She said they agreed to share a taxi in the belief that it was going to the Waterside.
The taxi driver stopped at a fish and chip shop in John Street where the defendant bought her a burger.
"I thought he was just being a gentlemen", she said.
She didn't realise the driver had changed the route until the taxi stopped outside the defendant's house.
"I was in the middle of somewhere I didn't know. I thought I was safe. I didn't think he was going to do things to me", she said.
The witness said as soon as she went into the defendant's house his attitude changed.
"The fear just came through me", she said.
"He told me to get up the stairs and shouted at me - do you want murdered, do you want me to murder you?" she told the detectives.
She said that the defendant partially pushed her out of the bedroom window before throwing her onto the bed where he raped her three times over an hour long period.
"I don't think he wanted me to leave that house alive", she added.
The complainant said after the alleged assaults the defendant quickly got dressed and dashed towards the front door and ran out.
She then ran to a neighbouring house the occupants of which alerted the police.
She claimed the defendant followed her from his house and banged her head off a wall before he returned to his home.
The trial is expected to last three weeks.