Dolores Kelly injured in Lurgan car attack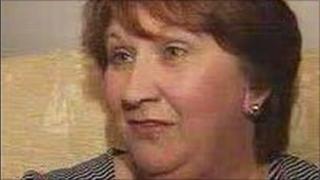 An SDLP assembly candidate has suffered minor cuts to her hand after her car was vandalised in Lurgan on Friday.
Dolores Kelly was at the Bells Row crossing in the Kilwilkie estate when the attack happened.
Police said they had received a report that a brick hit the windscreen of a car in the Antrim Road area at about 1800 BST on Friday.
They said a number of youths had been seen in the area at the time and the female driver "sustained scratches".
Ms Kelly said she believed she had been deliberately targeted and that those responsible were "hooligans intent on wreaking havoc in the area."
On Thursday night, an SDLP election worker's car was attacked with a petrol bomb in Coagh, County Tyrone.
Two 17-year-olds have been arrested in connection with that incident.
Mrs Kelly, who is a candidate for the Upper Bann constituency, said she would stand strong against violence and intimidation despite the attack.
She added: "Despite the damage to my car, which will require a new windscreen, and my injuries it will not stop me from speaking out against those engaging in anti-social behaviour."