Bus hijacked and burned in Londonderry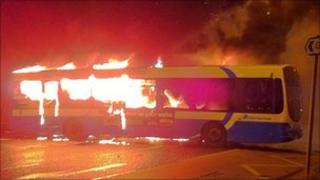 Translink says it will cost more than £100,000 to replace a bus that was hijacked and burnt out in Londonderry.
The police said three masked men, including one with a gun, boarded the bus on the Glengalliagh Road around 2230 BST on Monday.
A passenger was ordered off and the driver was told to move the bus into the middle of the road where it was set it alight.
Translink's Simon Corrigan said his thoughts were with the driver.
"It was dark. He was on his last run from Slievemore when he saw a gentleman at the bus stop. He pulled up but didn't realise and it all happened fairly quickly upon him," he said.
"It's unfortunate for our driver. The safety of our drivers and staff is absolutely paramount. This gentleman is out doing a day's work and it ends up in a situation like this."
Mr Corrigan said he would meet staff to discuss services in the area following the attack.