Thousands still without power as clean up gets underway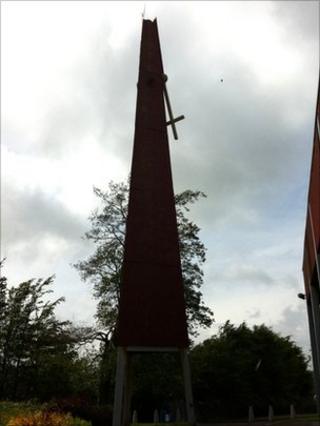 A clean up operation has got underway after storm force gales battered the north and west of Northern Ireland on Monday.
Gust of up to 80mph brought down trees and power lines leaving thousands of people without electricity.
Northern Ireland Electricity said it was working to restore power to 3,000 customers.
In Londonderry, the spire at St Brigid's Chapel in Carnhill was snapped in two.
Father Dermot Harkin cancelled morning Mass on Tuesday. He said it was fortunate no one was hurt.
"We think it is hanging by just a few shards of metal so it's very dangerous," he said.
"There's an orb underneath the cross and every so often it's swinging. It's close to the nursery school and the shopping centre so that is my main concern."
A large tree also crashed into an elderly couple's garden in Nelson Drive in the Waterside, destroying a wall and a car port.
Sam and Audrey Douglas weren't at home at the time.
"Even speaking about it now I get emotional looking at the thickness of that trunk," said Mr Douglas.
"If that wind was strong enough to do that then those other trees must be suspect. Who's going to take responsibility for all the repairs that need done?"
The strong winds disrupted flights at City of Derry Airport and a number of roads were closed, including the Foyle Bridge. All roads have now reopened.
Northern Ireland Electricity said any customers still without power should call 08457 643 643