DUP's Maurice Devenney is new Mayor of Derry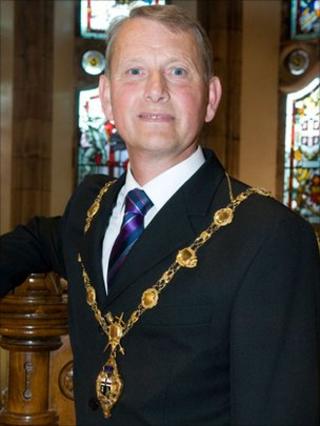 The DUP's Maurice Devenney has been elected the new mayor of Londonderry.
The 52-year-old father of two received the chains of office at Derry City Council's annual general meeting on Monday night.
He replaces the SDLP's Colum Eastwood who at 27 became the youngest person to hold the position.
Sinn Fein's Kevin Campbell has been elected deputy mayor.
Mr Devenney was elected to the council in 2005 and has served two terms as deputy mayor.
He said he was looking forward to the year ahead.
"A number of big things are coming up. We have the UK City of Culture and we must endeavour to work as hard as possible to promote the city to its best," he said.
"I've had two prevous jobs as deputy mayor and I really enjoyed them. I'm really looking forward to the year ahead and working with everybody in the city."
Mr Devenney said attacks by dissident republicans in the city remain a big concern.
On Saturday, a bomb exploded inside the Santander bank in the Diamond.
"We have to rise above that and move the city forward," he said.
"There's a better way than throwing bombs in to banks and murdering PSNI officers. There's a democratic way and that's the right way."