Golfers help as Derry storm downs trees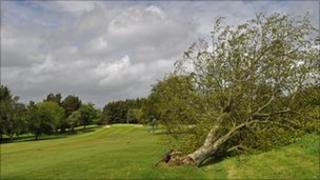 They are the huge obstacles every golfer wants to avoid, but staying out of the trees has just got a whole lot tougher at City of Derry golf club.
The 18-hole course renowned for its tree lined fairways has lost six huge conifers and beech trees after it bore the brunt of storm force gales on Monday.
The 30ft trees were brought down on the 5th, 9th and 16th holes when gusts of up to 80mph battered the north and west of Northern Ireland.
Tee boxes, greens and bunkers were also covered in foliage and debris.
A ladies competition planned for Tuesday had to be cancelled as the clean up operation got under way.
Head greenkeeper Conor McLaughlin said the storm couldn't have come at a worse time.
"We have Open Week starting on Saturday so it'll take until at least Friday evening to get it all cleared up," he said.
Big gaps
"The effects will be long-lasting, especially where the big beech trees came down. There are now big gaps on each side of the 9th fairway.
"Quite a bit of ground has been pulled up and the roots will have to be dug out and the area re-turfed. It'll take some time for the new trees to be planted and mature."
UP to 20 members, including the club captain, volunteered to help with the clean up.
Golfer Eamon McCourt from the Friends of Prehen group was one of them.
"This task is much too big for the head greenkeeper and his staff to do on their own," he said.
"Male and female members are helping to cut up trees and take away branches. There's a great atmosphere with the captain and members helping the greenkeepers.
"Ten holes are open but it'll take a while for everything to be cleaned up."