Church of Ireland at centre of Bovevagh graveyard row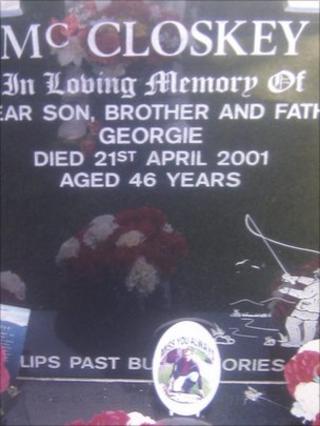 A Church of Ireland parish in County Londonderry is at the centre of a row after grieving families were ordered to remove pictures and plaques from their loved ones' graves.
Bovevagh church near Dungiven has warned three families they have until 31 May to take away the items or the Select Vestry, which manages the graveyard, will act.
The Church of Ireland has defended the decision and said no approval for the items was given.
But the families said the ultimatum was "unfair", and the row had added to their grief.
Jean McCloskey put a four-inch picture on her brother Georgie's grave three years ago to remind the family of his love of fishing.
"In the last few weeks the clergyman approached me and asked me to take off the wee picture. No reason was given. The church just said it was inappropriate and they wanted it removed," she said.
"We don't want to get into rows with anybody, but daddy feels that when he sees the grave he can remember Georgie as a fisherman, not as a dead person and it's a comfort to him."
She said the row had caused her 82-year-old father great "distress".
Ten Commandments
"I'm not taking it off and if they take it off I'll charge them with theft. After all, thou shalt not steal is one of the Ten Commandments," she said.
Sadie Young, whose partner died just 15 months ago, also received a letter from the church authorities.
"He was a wild man for the horses and tractors," she said.
"I wanted to put a horse in the corner of the headstone, but they said no. I wanted a wee rose, they said no. It's just their way or no way."
A Church of Ireland spokesperson said three families had received letters seeking the removal of items which were not approved.
"Select Vestries have responsibility for the care of graveyards for past, present and future generations," said the spokesperson.
"In the care of graveyards it's the aim of every Select Vestry, including that of Bovevagh parish, to provide a final resting place and a place of comfort for all generations, and to ensure the graveyard is a place where everyone feels comfortable visiting.
"Bovegagh Select Vestry, in common with others, seeks to do so sensitively and for the good for all."