'No place' for disabled daughter at Derry centre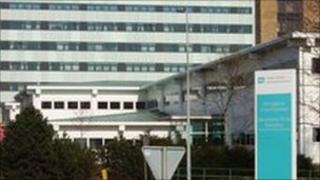 The mother of a disabled teenager in Londonderry has said she fears she will not get a place at an adult training centre because of budget cuts.
Jasmine Harris, 19, has mental and physical impairments and will leave Foyleview School in June.
Her mother, Michelle, said she has been told there is no place for her at Maybrook adult training centre.
The Western Trust has denied cutting its budget, and said it will meet the family.
Mrs Harris said she did not know how she would cope if her daughter missed out on a place.
"You can't spend 24 hours a day, seven days a week with just two people," she said.
"The routine stops and when that happens they start deteriorating in themselves, and I know I start deteriorating. No one has looked at this and said that money can be used there.
"These kids don't understand that. They need their routine and feel like they matter."
The Western Trust said it was aware of the issue and wanted to reassure the public that the budget for the Maybrook centre had not been cut.
A spokesperson said they are working with the Health and Social Care Board, which funds their services, with a view to provision for six young adults moving from school to the Maybrook centre.
"The Trust will continue to work with the families and the young adults themselves in relation to the provision of appropriate support and is planning to meet them in the coming weeks," said the spokesperson.
Sinn Fein MLA Martina Anderson raised the case of Jasmine Harris in the Assembly on Tuesday.
She welcomed the trust's statement but said the family must now be told if Jasmine has secured a place at Maybrook.