Edwin Poots backs stroke awareness campaign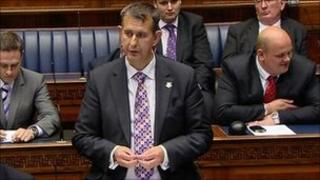 The Health Minister has urged members of the public to be aware of the signs and symptoms of strokes.
Edwin Poots said the brain condition kills 1,300 people in Northern Ireland every year.
"It costs the economy £250m and leaves many people with a permanent disability as a consequence," he added.
Mr Poots made the comments as the Public Health Agency prepared to launch an awareness campaign on Thursday.
It wants to highlight the signs and symptoms of strokes and what action to take in the case of an emergency.
"What we are encouraging people to do is to look out for the signs of stroke, such as facial weakness and arm weakness. Can a person lift their arms above their head?
"If these things arise call an ambulance," said the minister.
Chief Executive of the Public health Agency Dr Eddie Rooney said quick action can save lives.
"Calling an ambulance and getting to hospital immediately can make a big difference in reducing the damage caused by stroke.
"For many, this prompt action will substantially improve their quality of life," he added.