Derry man admits rifle and ammunition charges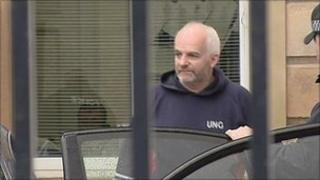 A Londonderry man has been remanded in custody after he pleaded guilty to a string of weapons charges.
Thomas Christopher Nash, 53, from Iveagh Park in Prehen admitting having a .22 calibre hunting rifle, ammunition and a silencer with intent to endanger life on 09 August 2010.
He also admitted having an imitation AK47 assault rifle and an imitation handgun with intent to cause fear of violence, and a canister of CS spray.
He is due to be sentenced in September.
The prosecution told Belfast Crown Court that Nash's pleas to having the rifle and ammunition was on the "second limb" of the charge, namely to enable another person to endanger life or cause serious damage to property.
A defence barrister told the judge that reports from a doctor and a psychologist relating to Nash's medical condition would be put before the court before sentencing.
During a previous bail application, the court heard the weapons cache was uncovered during follow-up searches after a bomb attack on Strand Road PSNI station on 03 August last year.
The court was told that real and fake guns, described as a "terrorist arsenal" were found along with ammunition during searches of two properties linked to Nash, a car breaker and mechanic.
No-one was injured in the explosion, but a number of businesses were badly damaged.
Dissident republican faction Oglaigh na hEireann claimed responsibility for the attack.