Abuse shouted at murder accused Paul Greatbanks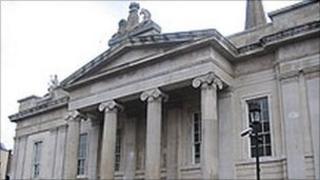 Londonderry Magistrate's Court was temporarily suspended on Thursday after family and friends of murder victim Patrick Harkin shouted abuse at the person accused of the killing.
Paul Greatbanks, 46, from Bayview Terrace, appeared in court in relation to another offence.
A small crowd scuffled with police and shouted verbal abuse at the defendant.
One man was arrested after police officers cleared the court.
Mr Greatbanks was brought in custody from Maghaberry Prison for the court hearing, during which the police applied for him to be released into their custody for 24 hours for questioning about another offence.
After district judge Barney McElholm granted the police application, which was not opposed, a small crowd of relatives and friends of Mr Harkin charged towards the dock.
The magistrate suspended the court hearings for several minutes to enable police officers to clear the court.