Bloody Sunday one year on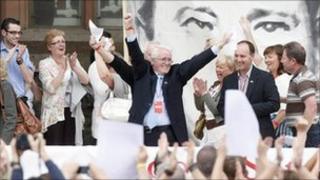 A year ago today, the government published the Saville report into Bloody Sunday in 1972 and apologised for the soldiers' actions.
In Londonderry, the anniversary will be marked by a programme of events, including a concert in the Bogside.
The Prime Minister, David Cameron, said that what happened was 'both unjustified and unjustifiable'.
The Saville inquiry re-examined the deaths of 13 people killed when British soldiers fired on a civil rights march.
A fourteenth died later.
The relatives broadly welcomed the Saville report, although some said it did not go far enough. A number of families still want to see the soldiers who killed and wounded people brought to court.
John Kelly, whose brother Michael was shot dead on Bloody Sunday, said he does not believe the process is complete yet.
"As far as I am concerned all those who participated that day should be prosecuted for murder and attempted murder," he said.
"All those who fired shots that day should face justice for what they did."
Enough is enough
Karen Carlin, who lost her father Paddy Doherty, said she doesn't want to seek prosecutions, but supports those who do.
"We decided that as a family, enough is enough," she said.
"When your parent dosen't come home it's really devastating."
Protestant clergymen, who visited the Bloody Sunday memorial in the Bogside the day after the report was published, said it has helped to heal community relations in the city.
The Church of Ireland Bishop of Derry and Raphoe, Ken Good, paid tribute to the Bloody Sunday families.
"It was a bleak and tragic day and should never have happened, but the Saville report and time since then has been a bright, strong positive and healing story," he said.
The Bloody Sunday Trust have organised a number of events to mark the first anniversary of the publication of the Saville report. They include an open air concert in Glenfada Park, an essay competition and a video diary project to record people's memories of the day.