Fears for future of Londonderry schools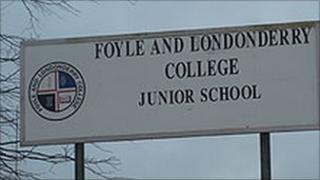 A Londonderry principal and school governors are seeking clarification from the Education Minister over the future of the shared campus for Ebrington Primary School and Foyle College.
Last week, the education minister, John O'Dowd, told the assembly that the co-location of the two schools depends on other funding considerations.
He said he also needs to protect Lisneal College and the expansion of the Magee Campus.
Robin Young, the chairman of the governors at Foyle College, said the minister's comments had raised questions.
"If the minister is going to make a change to what is agreed this would cause us major concern," he said.
The Foyle DUP MLA, William Hay, said he hopes to meet Mr O'Dowd next week to discuss the issue.
"There are worries that the project to relocate the two schools to a new site may have lost some momentum," he said.
"We need to find out where the minister sees any problems and how these can be resolved. We also need to clarify if there is a lack of resources for the project."
Foyle and Londonderry College is currently based on two campuses on the Northland Road on Derry's cityside.
The school plans to move to a new building on the former army base at Clooney on the Waterside, along with Ebrington Primary School.