CJI report shows that annual NI legal bill tops £100m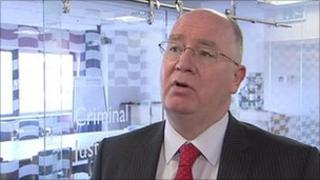 The way legal services are provided in NI must be improved, according to a report out on Tuesday.
The Criminal Justice Inspection report identified a number of ways of getting value for money.
About £100m is spent annually on legal services in Northern Ireland.
Chief Inspector of Criminal Justice in Northern Ireland, Dr Michael Maguire, said it would be prudent to set some limits on the overall rates that can be charged.
"What we would like to see is a much more structured approach to agreeing fee rates," he said.
"We need to look at the kinds of information that is supplied from those within the legal profession to ensure value for money is achieved.
"Inspectors found that the purchase of legal services from the private sector was governed by a range of different fee schemes and arrangements, which lack transparency and make it difficult to predict overall costs," he added.
Dr Maguire also indicated that many justice organisations were unaware of the costs involved until work was completed and that costs often exceeded original estimates' where they were provided.
The report states that standard procurement arrangements are increasingly used to secure the services of solicitors for civil work within the justice system.
'Unacceptable'
However arrangements for the procurement of barristers for criminal and civil cases by justice organisations is different, with no competitive public tendering taking place.
"These practices are generally considered unacceptable in other commercial environments where the supplier of a service would be expected to provide an estimate of the cost of service provision in advance of work being undertaken," Dr Maguire said.
"They would also be expected to justify and explain any variances from these estimates.
"I can see no reason why this discipline which is used in other areas of public expenditure, should not apply to the provision of legal services," he continued.
The inspection report also highlighted the difference in payments made to defence and prosecution counsel.