92 residents object to Derry club licence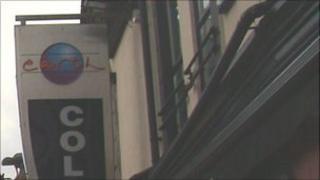 Ninety-two objections have been lodged against the renewal of an entertainment licence at a Londonderry nightclub.
Residents in the Aberfoyle and Duncreggan areas claim people going into and out of Earth on Strand Road are making their lives a misery.
They also said they plan to object to the upcoming late night licence applications for two other nearby premises.
Councillors at Derry City Council postponed their decision.
Tony Brennan from Aberfoyle and Duncreggan Residents Association said residents felt they had no alternative but to object to Earth's licence.
'Foul language'
"For the past five or six years, the residents in the area have been subjected to littering, foul language, noise in the early hours of the morning, and violent assault.
"We have tried in the past to work with the bars, they have run initiatives advising their patrons that they're in a residential area but all the initiatives they have undertaken have not worked.
"The residents have no objection to the bars themselves, it's the late night entertainment licences they're objecting to."
The owner of Earth, Henry Downey, told a meeting of Derry City Council's Licencing Committee on Thursday that he was willing to work with residents to combat the issues they have raised.
He also said the University of Ulster could take measures to deter students who drink at his bar from unruly behaviour.
The residents told the meeting they intend to object to the late night licence applications for the student union bar at Magee and the Carraig bar.
The chairman of the licencing committee, Shaun Gallagher, said he would wait until the hearing for the Carraig bar's licence before making a decision.
He also said he believed the problems facing residents were a policing issue, and suggested the PSNI should attend the next hearing.
The police did not put forward any objection to the Earth licence.