Man fined for 'SS RUC' chant during peace bridge visit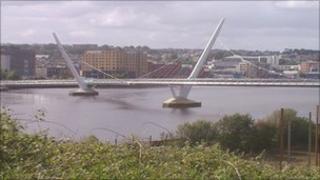 A man who travelled to Londonderry for the opening of the peace bridge last month has been fined £150 for disorderly behaviour.
Martin Duggan, 38, from Hartswood, Crumlin, was arrested in Guildhall Square on 26 June after he shouted "SS RUC" at the police.
The court was told the officers tried to calm him down but he persisted in being verbally abusive to them.
Deputy District Judge Peter King described Duggan's chant as historic.