Specsavers bomb hoax 'cost Derry traders £20k'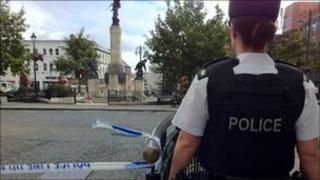 A bomb hoax in Londonderry on Tuesday cost traders £20,000 in lost business, a court has been told.
Martin Stokes, 41, from Barr's Lane, Derry, appeared at Londonderry Magistrates Court accused of making the call which led to the alert at Specsavers in Ferryquay Street.
A police witness told Judge Peter Prenter that the defendant was arrested after the call was traced to his mobile phone.
He was freed on bail of £500.
A police officer told the judge that staff at Specsavers contacted them just after 1000 BST on Tuesday, reporting that a man shouted over the phone in an aggressive manner that a bomb had been placed in the rear of the building and that staff had 45 minutes to evacuate the premises.
He said police officers were sent to the scene and, after a search of the premises, nothing was found.
They then took phone records of phone calls made to the opticians that morning and traced one of the phone numbers to the defendant.
The officer said they went to the defendant's home and asked him to produce his mobile phone.
The police officer dialled the mobile phone number they had obtained from the staff and the defendant's phone rang.
The officer said that city centre manager, Jim Roddy, told him that the disruption caused a revenue loss of £20,000 because of the evacuation of several city centre business premises.
He also said it wasted police resources.
Applying for bail, defence solicitor Seamus Quigley said the phone was not registered in Mr Stokes' name but in the name of his wife.
He said there were two other male adults in the defendant's home when the police arrived and anyone could have had access to the mobile phone.
Mr Quigley said he was confident that, in three or four months' time, the case would disappear and that, if he was a betting man, he would bet on that happening.