Worker threatened at gunpoint in Londonderry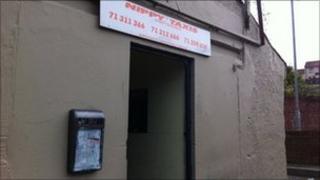 An employee of a Londonderry taxi depot was threatened at gunpoint during an incident in the Waterside on Monday.
The police say two armed and masked men went into the office on the Strabane Old Road at about 23:10 BST.
One of the gunmen tried to fire a shot but the weapon failed to discharge.
A short time later, a petrol bomb struck the roof of a house in the area and landed in front of a police vehicle. No-one was injured.
Sinn Fein Councillor Lynn Fleming condemned those behind the incident.
She said: "I would like to make it clear to those responsible for last night's incident, that the local community in the Top of the Hill area do not want these actions taking place on their streets and those behind them need to stop.
"We are in a new era. We are creating a new society for the younger generation and there can be no place for this type of vigilante activity."