Leaflet drop targets Londonderry drug-dealers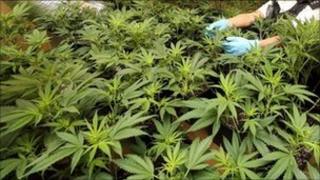 The police have carried out a leaflet drop in Londonderry to encourage people to report drug-dealers.
They focussed on the Shantallow estate, in areas where they suspect drug dealing is happening.
Sergeant Phil Martin said: "The community have clearly stated that drug dealing in our city in unacceptable and we support their concerns.
"We must continue our efforts to disrupt their activities."
The leaflets explain the type of information the police need and how it can be reported to them.
Sgt Martin said: "Sometimes a name is not enough. Do you know the address of the property where you suspect drug-dealing is taking place?
"What vehicles do you see coming and going and at what times? Licence plate details are key.
"At what times do you notice increased activity around the property and are you aware of what types of drugs are being sold?"
He said people with information about drug-dealers can contact several numbers: 0845 600 8000 or, in an emergency, dial 999. City North neighbourhood team can be contacted on 07585 979446 and the number for Crimestoppers is 0800 555 111.