Limavady council meeting suspended in flag row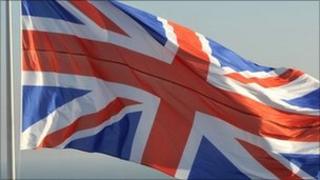 Another meeting of Limavady Borough Council has been disrupted in an ongoing row over the Union Flag.
Tuesday night's meeting was suspended when TUV Councillor Boyd Douglas displayed a party logo containing the flag inside the council chamber.
Meetings have already been called off a number of times after the same councillor unfurled the Union Flag during council business.
The council policy is that no flags should be shown within the chamber.
Councillor Douglas claimed there was nothing unlawful in what he had done.
"Things went from bad to worse because the mayor didn't seem to be capable of dealing with the meeting," he said.
"I have actually said that I wouldn't use the flag again, but I would use my logo of my party."
However, the Sinn Fein Mayor Sean McGlinchey blamed Councillor Douglas for causing the disruption.
"Councillor Douglas made it very clear that it was an attack on me personally and my party," he said.