Investigation after police use Taser on man in Derry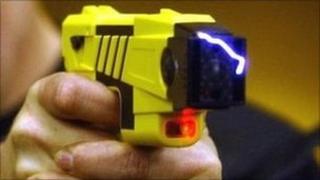 The Police Ombudsman is investigating after the PSNI used a stun-gun on a man in Londonderry at the weekend.
The 18-year-old was arrested in Westland Street in the early hours of Sunday morning on suspicion of three counts of having an offensive weapon.
He is due to appear at Londonderry Magistrates' Court on Monday.
The PSNI confirmed that a Taser had been discharged and said the Police Ombudsman had been informed about the incident.