Buncrana priest forced to cut wages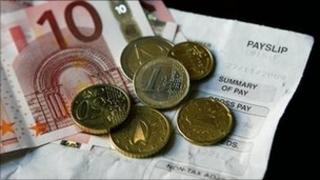 A priest in Donegal is being forced to cut staff wages as his parish feels the pinch of the recession.
Fr John Walsh, the parish priest in Buncrana, said their annual income had dropped by about 80,000 Euro.
As a result, the salaries of housekeepers, sacristans, secretarial and maintenance staff would have to fall.
He said things had become so severe, that the parish may also have to cut back on heating and lighting.
Church collections had dropped by about 1,000 Euro a week and they also had to close the parish savings scheme which earned about 35,000 Euro a year in interest, he said.
"We ended the scheme about two years ago because the banks looked iffy and we were afraid to lose people's money," Fr Walsh said.
The Buncrana parish's annual income dropped to about €300,000 last year.
This money has to cover the running of three churches, three parochial houses and one parish hall in the main centres of Buncrana, Cockhill and Desertegney.
Fr Walsh said the cutbacks would not affect the number of Masses held each week but he said parishioners would notice some changes.
"When people are going into the church before an evening Mass, the place will be lit in a more sombre way," he said. "The spotlights will only come on when the priest comes on to the altar.
"We are experiencing the effects of a very bad recession. The parish is feeling the pinch just like so many people."